Jamie Neufeld, an English teacher at Silver Creek High School in Longmont, Colorado, had first heard of Six-Word Memoirs as an idea floating around various teaching forums. She never considered bringing it into her own classroom until two things happened. One: After teaching in an integrated classroom with a Social Studies teacher for 12 years, she had begun teaching a non-integrated classroom on her own, giving her more wiggle room to explore new ideas. Two: While perusing google and social media, she stumbled upon Six-Words again and Larry Smith, founder of Six-Word Memoirs, and realized she remembered him from her college days.
From there, her interest was piqued and it led her to the Six-Word Memoir website. "I went to the site and was taken by the variety of work it does—with kids, veterans, anyone—and I found the memoirs funny, relatable, inspiring," says Neufeld. "The first thing I did was post my own Six-Word Memoir about my dog dying. The memoir wasn't great, but it was really cathartic to write and post it."
After her discovery, Neufeld decided to introduce Six-Word Memoirs to her students after the holidays. She wanted to do something with the kids that would draw them in and get them thinking about their goals. So a Six-Word Memoir project seemed like a winner to help unlock her students' potential.
Students were asked to draft three memoirs: about their holiday, their goals for the semester, and anything else. They each picked one to workshop with the rest of the class and revise. Then, mimicking a Six-Word Memoir post on the website, they created a PowerPoint slide that included their memoir, a relevant image, and a backstory.
Their Six-Word Memoir project lasted two weeks. "I started by showing them the one I wrote about my dog and the comments people made and how the experience affected me," says Neufeld. She also had students watch Smith's crash course video as well as his TED talk and the video about veterans writing Six-Word Memoirs. She wanted to immerse the class in the idea that a lot can be communicated with very little, and that those few words can create community and express a lot emotionally.
Students took time to learn about the concept and then worked in groups to define memoir, explored other Six-Word Memoirs written by teens, and free-wrote their own memoirs. They analyzed word choice, word order, and punctuation, all valuable skills in any English writing tool kit. It ended with the class viewing and discussing the Six-Word Memoir slideshow they created together and having classroom celebration of their accomplishment.
"Most of the kids in these two classes are not high performers in the Language Arts area, and the Six-Word Memoir is accessible and simple, yet also can contain so much meaning. Even my kiddos who don't do much work did this work," says Neufeld. "I learned a lot about them—their challenges and dreams and setbacks." It was rewarding for her to see her students react so positively to the project.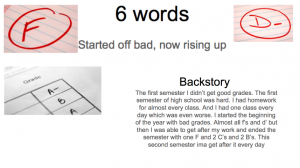 "One of my students, who is very bright and an avid reader, also suffers quite severely from depression and anxiety," says Neufeld. "He told me a few weeks after the project ended that he was writing Six-Word Memoirs in his journal and was finding it therapeutic." She was overjoyed at the thought that her students now had this great outlet to use even outside of school.
In their classroom slideshow, students shared their struggles in school ("Started off bad, now rising up") and about feeling adrift ("I'm still lost, but that's okay"). Some wrote about the back-to-school blues ("What do you mean it's Sunday?!"), and others simply told it like it was ("This memoir is written for school").
Also, as an assignment for Of Mice and Men, Neufeld asked students to write Six-Word Memoirs from the perspective of different characters. For Lennie: "I ain't doin' it for meanness" and "I want to tend the rabbits." For Curley's wife: "Can't find Curley. Anyone seen him?" and "I could have been a star."
Neufeld agrees that Six-Word Memoirs can be a valuable tool in a classroom setting. "Not only do they [Six-Word Memoirs] require recognition of the importance of word choice, but they can be used to tap into social-emotional learning and empathy," she says. "Kids can write them to reflect on where they are with their goals and lives, to respond to literature, for fun."
But if you don't believe her, just ask the students themselves.
Taren: "I love the idea of saying something in six words that is so significant and capable of being part of a bigger picture, especially when it holds personal meaning to you."
Amilia: "It helped me express who I am and how I feel. It was a fun experience."
Avery: "I thought it would be boring." [Ed. note: We guess it wasn't?]
And, to put the icing on top in Six-Word fashion, Tanner says:  "I really liked it exclamation point."
The Six-Word impact on Neufield's classroom was notable, and she plans to continue using Six-Word Memoirs in her lessons throughout the year. Neufeld reflects on the experience: "I think the emotional connection to the impact of language was powerful, as was the opportunity to learn more about each other and build community."
Teachers! Since we first launched the Six-Word Memoir project, educators across the spectrum have found Six Words to be a terrific classroom assignment and catalyst for self-expression. At our Six in Schools section, we celebrate students' work from classrooms around the world. Download one or all of our free teacher's guides here.