At the Beverly Public Library in Massachusetts, Laurie Formichella wonders what life in Beverly was like during the 1918 Spanish Flu. More than a century later, it might be curious to compare influenza experiences with the ongoing pandemic, both which similarly affected millions worldwide. The suburban city, established in the 1600s, has a rich and timeless history meticulously preserved through oral history. Thanks to the local libraries, it is possible to look back at major historical events through the eyes of everyday people who lived through conflict and change.
Formichella first learned about Six-Word Memoirs when her daughter Mia's memoir ("Perfectionist loves her one crooked tooth")  was featured in our book, It All Changed In An Instant and selected as part of the Honest Tea collaboration, and became a huge fan of the challenging concept. She saw the minimalist format as the perfect way to gain detailed, concise perspectives.
As the Head of Technical Services, Formichella describes a network of individually run town libraries connected by catalog and collections. They select different methods of adding to the local history of the whole area and many conduct interviews or hold contests for their patrons. From November through December, the library invited the community to participate through their website, then posted the submissions on Facebook and Instagram.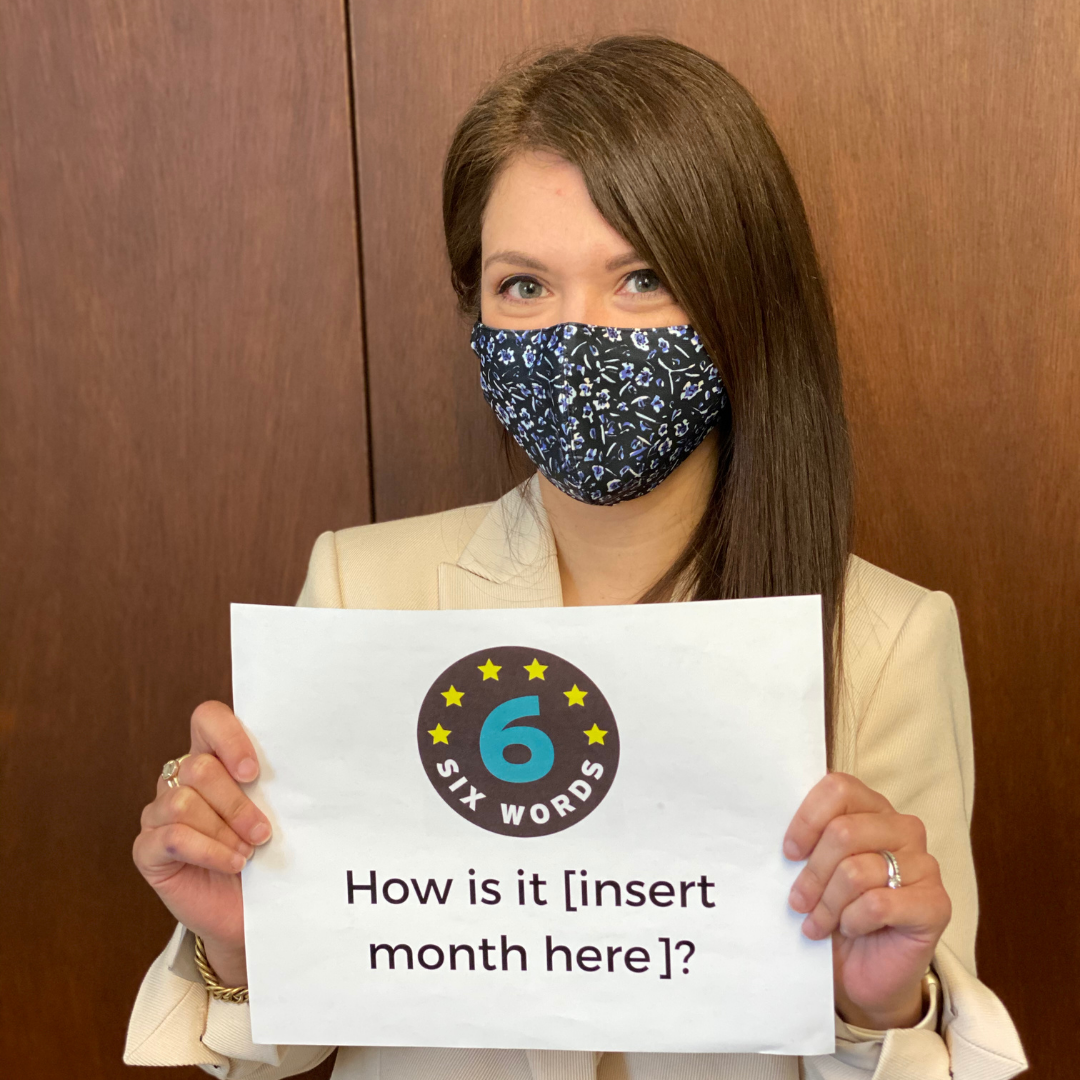 Already surpassing a goal of 50 submissions, Formichella found several common themes among the memoirs including pets, feeling upside down, mixed blessings, boredom, missing normal life, and Zoom. "No matter who it was, those themes kept cropping up," she says. Formichella wanted to discover all the facets of how the pandemic affected individuals of all ages.
"Time for things I have missed."  —Anne Curry
"Fingers crossed for good walking weather." —Morgan
"Wake up, do artwork, sleep, repeat." —Brian Murphy
"Waiting for the world to change." —Irena Sinclair
"Teaching—in person, joyfulness! Remotely, insanity!" —Maria Simon
To understand how it specifically affected our youth, she asked the Beverly Middle School librarian to share with the students, which in turn inspired a 7th grade classroom to work on their own Six-Word Memoirs slideshow project. Again, boredom was a noticeable theme, although many students also described how they missed their friends.
The format of Six-Word Memoirs asks participants to place serious thought into what words should be left out, which Formichella compares to poetry. "The meaning is so distilled," Formichella adds, that allows memoirs to be exceptional and unique. In addition, it was an innovative way to record oral history among other library branches. "We're part of a network," Formichella says, "So in a way, I feel like what we're doing is completing a part of a whole of what all our libraries are doing."
"Mommy, help me with this assignment."  —Amber Redmond
"Realigning priorities and exercising radical empathy."  —Meagan Grant
"I just miss my old life." —Elizabeth Thomsen
"Continued state of shocked and humbled." —Kelly
An emphasis on local history inspires people to seek connections between each other, from a network of libraries to multiple communities participating in Six-Word Memoirs. Sharing memoirs showed neighbors and strangers different perspectives on how the pandemic affected a sense of normalcy.
"Exploring Essex County on a Bicycle." —Marshall Handly
"Covid killed my husband in May." —Kathleen W. Shaw
"Books? Too distracted to read one." —Alix Woznick
The library Six-Word Memoir submissions will be preserved on both the Beverly Public Library and Historic Beverly website. Formichella imagines compiling the entries into a booklet that could be viewed in the library collection, or with enough funding, print enough copies for patrons to take their own copies home. Formichella says that she'll continue to utilize Six Words in the future, such as Six-Word book reviews for her library patrons.
In just two months, the project brought forth a community of storytellers. Years from now, we might look back and revisit such these short, powerful six-word takes on the pandemic as a part of history.
---
Teachers! Since we first launched The Six-Word Memoir Project, educators across the spectrum have found Six Words to be a terrific classroom assignment and catalyst for self-expression. At our Six in Schools section, we celebrate students' work from classrooms around the world. Download one or all of our free teacher's guides—including our most recent pandemic edition here. Email us at news@smithmag.net and share your classroom's six-word journey and your students could be featured in a future Classroom of the Month.