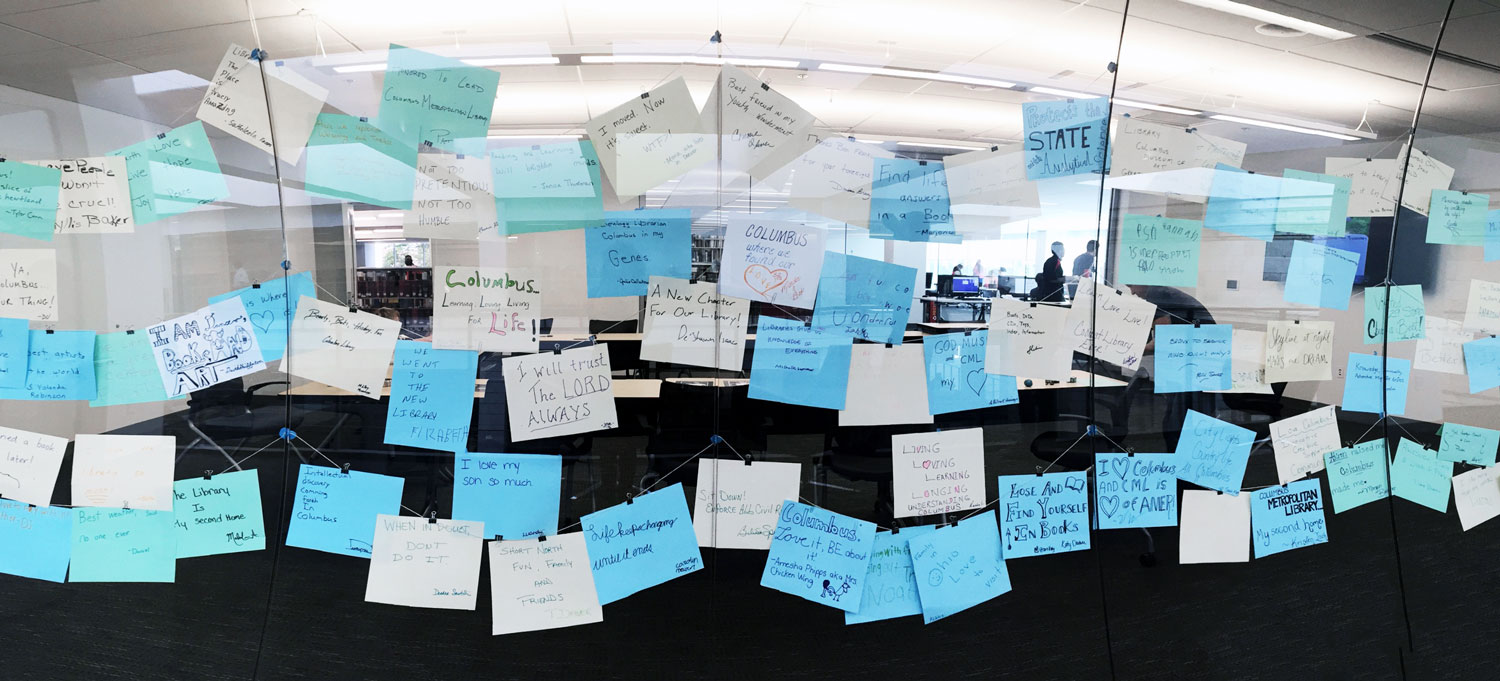 Legend has it that Ernest Hemingway was once challenged to write a story in only six words. His response? "For sale: baby shoes, never worn." In November 2006, Larry Smith, founder of SMITH Magazine, gave the six-word novel a personal twist by asking his community to describe their lives in exactly six words.
They sent in short life stories in droves, from the bittersweet ("Cursed with cancer, blessed with friends") and poignant ("I still make coffee for two") to the inspirational ("From migrant worker to NASA astronaut"). and hilarious ("Married by Elvis, divorced by Friday"). And the Six-Word Memoir project was born.
Hundreds of thousands of people have shared their own short life story at smithmag.net, as well as in classrooms, churches, and at live Six-Word "slams" across the world. The Six-Word Memoir exemplifies the best of SMITH Magazine's storytelling mission: populist, participatory, inspirational, and addictive. From speed dating to parlor games, to conferences and staff retreats, Six-Word Memoirs have become a powerful tool to inspire conversation around a big idea, and a simple way for individuals to break the ice.
Anticipating the microblogging explosion, Larry Smith's SMITH originally launched the Six-Word Memoir concept in November 2006 as a simple online challenge asking: Can you tell your life story in six words? We have published more than 1.3 million life stories on sixwordsmemoirs.com — and counting!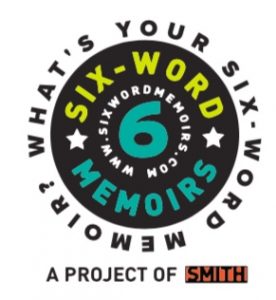 Larry Smith founded SMITH Magazine on January 6, 2006. Prior to SMITH, he was the articles editor of Men's Journal, has been the executive editor of Yahoo! Internet Life, senior editor at ESPN The Magazine, a founding editor of P.O.V., and editor-in-chief of its sister publication, Egg, as well as an editor of Might magazine. While living in San Francisco, he was managing editor of AlterNet, and now serves on its board. His writing has appeared in The New York Times, Popular Science, Men's Health, Salon, Slate, and other places. He has contributed personal essays to the anthologies Maybe Baby and Cassette From My Ex: Stories and Soundtracks of Lost Loves, as well as the NYT' book, Modern Love: 50 True and Extraordinary Tales of Desire, Deceit, and Devotion.
Larry speaks on storytelling at companies such as ESPN and Google, for foundations and nonprofits, as well as at schools. He teaches the class, "What's Your Story: How to Deliver an Authentic Elevator Pitch," at The Hired Guns Academy.
He has spoken at the PopTech conference, AARP's 50+ Convention, Ignite NYC, and The 92nd Street Y. To contact him for speaking engagements, or for SMITH Mag's team building program for companies and nonprofits, Six@Work, email: larry@sixwordmemoirs.com
Previously an editorial intern for SMITH Magazine and Six-Word Memoirs, McKenzie Merriman recently rejoined Team Six as the Community Manager. Dedicated to evocative storytelling and developing rich, creative communities, McKenzie works to engage and connect the Six-Word Memoirs community across all platforms and walks of life. In addition to her work with Six-Word Memoirs, McKenzie is also a Cleveland-based artist, working as a gallery manager and arts coordinator with numerous arts organizations in Cleveland, Ohio.
An avid contributor to SMITH Magazine since 2009, Shauna Greene joined Six Words as associate editor in 2013. She brings a vast range of professional writing and editorial experience to our team. Past work includes relationship management with Fortune 500 companies and large foundations, case management and advocacy with at-risk youth in foster care, and teaching english to Japanese students. She holds an MSW from UC Berkeley, with a minor in Education and a concentration in business.
Contributing Editors, Volunteers, and BFFs
Cheryl Della Pietra (copy), Rachel Fershleiser (co-creator, Six-Word Memoirs®), Arin Fishkin (design), Amy Rothberger (books), Nicole Salzano (creative consultant), Jonathan Zipper (community)
---
Intern: Lilah Tsudome
---
Representation
Speaking: Tom Neilssen, BrightSight Group.
Literary Agent: David Patterson, SK Agency
Legal: Jason Sanders Law

Powered by: WordPress, Honest Tea, Rick's Picks, Emergen-C, Gorilla Coffee, The City Bakery (pretzelcroissant.com).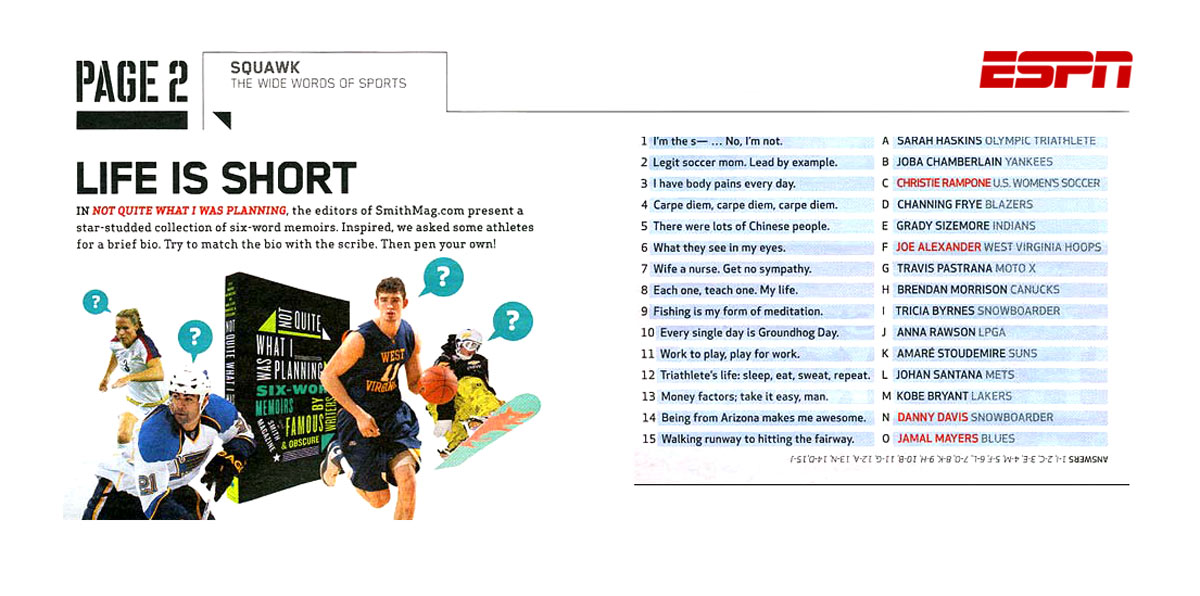 From Honest Tea to ESPN to MINI Cooper and more, we've partnered with and licensed the trademarked Six-Word Memoir form to companies in print, digital, radio, and television.
Want to create a campaign using the simple and effective Six-Word Memoir form? We're pleased to bring our storytelling expertise and lively, engaged community to yours. We can create a multitude of Run Of Site advertising programs or we can help you develop an exciting and effective Six-Word contest. We can also work with you to develop a highly customizable broad reaching marketing program using the power of Six Words, including Six-Word Reviews™.  Six Words on our philosophy: "Engaged. Creative. Active. Community. Responsive. Believe."
Contact news@smithmag.net to begin the conversation.
Most inspirational presentation goes to Larry Smith, editor of SMITH Magazine. He was humorous, on-point, and empowering. Many of us left that room with renewed commitment to our ideas." – KQED Radio
Every successful business knows that trust is the foundation of an effective team. When staffs are anxious, stressed, and working through challenging times, trust can take a beating. Stronger professional relationships can vastly improve how teammates work together—they care more about approval, ask for help more quickly, hold one another accountable—and get better results. Studies of companies from Google to Zappos have demonstrated conclusively that company culture affects performance: Teams that know and trust one another work together more effectively.
Larry has spoken at companies such as ESPN, Levi's, Google, Twitter, Dell and Shutterfly on the power of personal storytelling, how to engage an audience, and how a simple idea can make a big difference. He also leads workshops at foundations, nonprofits, boardrooms, and schools across the country.
In smaller groups, such as staff and boards of a company or nonprofit, Larry regularly teaches a workshop called "What's Your Story: Nailing Your Mission." In schools, he gives an assembly presentation about the power of personal storytelling, as well as leading smaller workshops with individual classrooms from third grade to graduate school.
To bring Larry to your staff retreat, board meeting, conference, or classroom, contact: news@smithmag.net. Larry is represented by Brightsight Group speakers bureau, where his talk, Focus, Creativity & Community: In Just Six Words, receives rave reviews from companies and associations of all sizes and descriptions.
Larry teaches the class, "What's Your Story: How to Deliver an Authentic Elevator Pitch," at The Hired Guns Academy in New York City and on-site nationwide at companies of all descriptions and sizes.
He closed the opening day of the 2010 PopTech conference, and has spoken at AARP's National Convention, Ignite NYC, The 92nd Street Y, the New York Public Library, and elsewhere. His presentation at the 2011 SXSW Interactive Festival, "How to Create an Internet Phenomenon for Peanuts," was called "Most Inspirational" by KQED Radio.
He was humorous, on-point, and empowering. Many of us left that room with renewed commitment to our ideas." – KQED Radio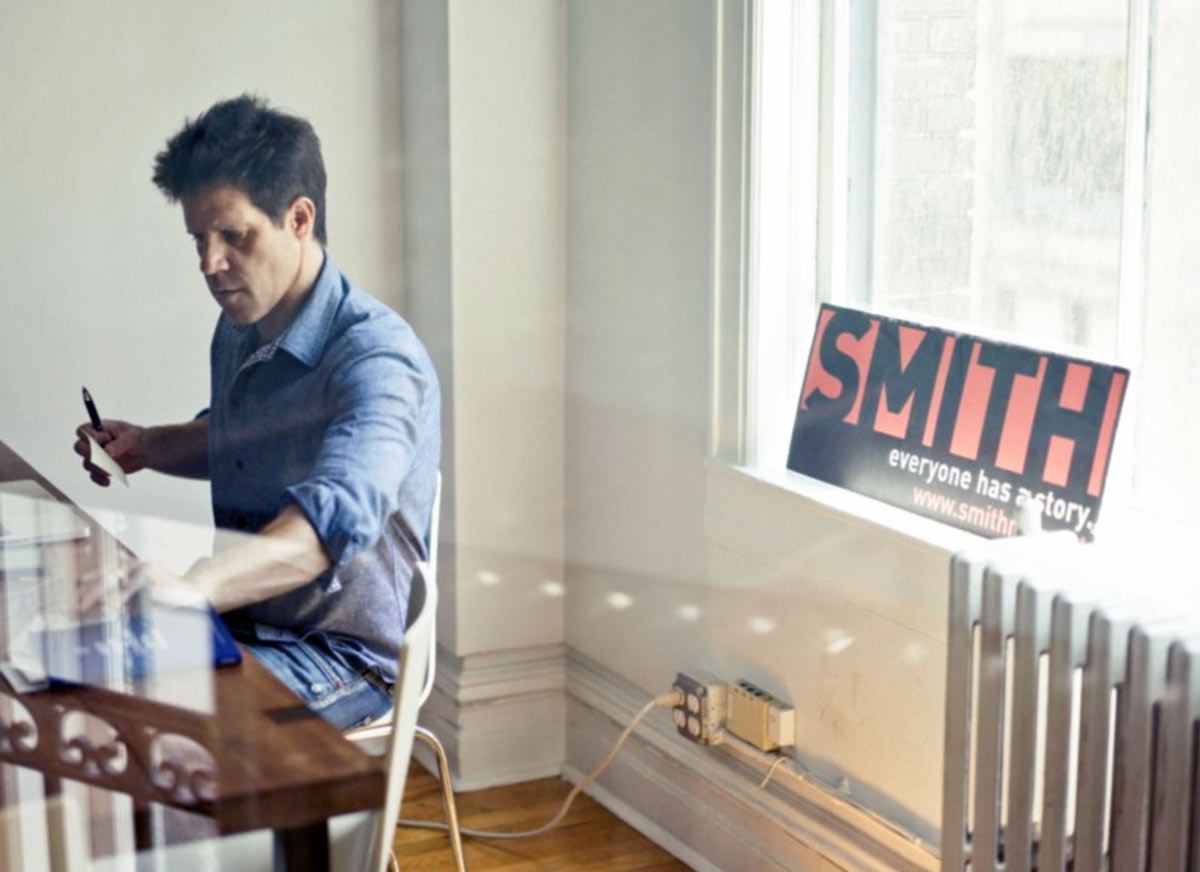 "Larry Smith is on a quest to spark the creativity of aspiring writers." – Oprah Magazine
LARRY SMITH is the founder and editor of SMITH Magazine, best known for launching the Six-Word Memoir® project. Six Words is a bestselling books series, live events program, board game, and form of self-expression employed to spark self-expression and hone missions in classrooms, boardrooms and corporate retreats. Anticipating the microblogging explosion, SMITH Mag originally launched the Six-Word Memoir project in November 2006 in partnership with Twitter with a simple online challenge asking: "Can you tell your life story in six words?" Now more than 1 million Six-Word Memoirs have been shared across SixWordMemoirs.com, mobile and social media. Larry's latest launch is the civic engagement initiative, Six in the City, currently debuting in Columbus, Ohio.
Larry has been called a "luminary in the story world" on the A Storied Life blog, one of the "most interesting people of the day" on CNN, a 'Levi's storytelling pioneer" and has been interviewed on storytelling and the power of the short form in Interview Magazine,  The Happiness Project, True/Slant, The Gothamist, among other places. For links to interviews with Smith on NPR, The CBS Early Show, The New York Times, and elsewhere, visit the Six-Word Memoir press page.
"Personable, energetic, and blessed with great hair, Smith uses the Six Word Memoir as a teaching tool in schools and a team-building technique in corporate settings."– Philadelphia Inquirer
Speaking & Workshops
Find focus. Fulfill missions. Build camaraderie.
Six-Word Memoirs exists because of your support.
We're a small team trying to manifest a big dream to inspire the storyteller in everyone. Your help allows us to do the work we do, including keep this site running. There are three ways you can support Six.
Donate
Donate $66 or more and we'll send you the signed Six-Word book of your choice. Donate $600 and we'll send you every single Six-Word book published as well as our limited-edition "Everyone has a story" T-shirt.
Venmo
OR
Speaking & Workshops
Bring Six to Your Company
Hire Larry Smith to lead a team- or mission-building workshop or staff retreat at your company. For more information, see our Speaking & Workshops page.