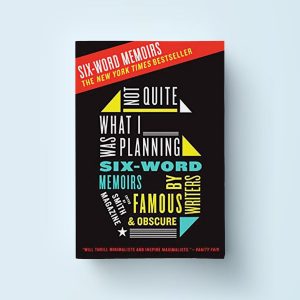 Get the book that launched an international Six-Word Memoir® phenomenon and became a New York Times bestseller. Hailed as 'American Haiku,' praised from the NPR to The New Yorker, named one of Amazon's Top 100 books of 2008, it's 1,000 peeks at humanity, six words at a time. Here's what the media said.
---
TV & Radio
CBS' The Early Show: A fun and thoughtful segment called Six-Word Memoirs Can Say It All from CBS' The Early Show, with special appearances from Mario Batali, Joan Rivers, and Stephen Colbert.
NPR's Talk of the Nation: Larry Smith and Rachel Fershleiser bounce around six-word memoirs with host Neal Conan and his listeners during a lively 12-minute segment that quickly became the "most emailed" story on NPR.org.
PBS' Need To Know: A powerful segment with interviews from Iraq and Afghanistan veterans in which they share their backstories to their Six-Word Memoirs on coming home from war.
BBC's Today Programme: Larry Smith talks to the UK's leading morning show about why 15,000 responded to our six-word challenge, the making of the book, and why Nigel French "Lived in America, came back different."
BBC's The Word: Larry Smith talks to Harriet Gilbert, host of BBC's popular "The Word" book and lit show, about what makes a good six-word life story.
Wisconsin Public Radio's "To the Best of Our Knowledge": "Could six-word memoirs be the new literary trend?," asks "Best of Our Knowledge" host Jim Fleming before a conversation about the book.
KCPW public radio (Utah): Brian Schott, host of Utah public radio's morning show, talks to Larry Smith about the origin of the six-word memoir sensation, and why divorce, drugs, and, always, coffee, is the best fodder for stories.
Voice of America: Larry and Rachel appear on the Wordmaster program to discuss six-word memoirs and their use in learning and analyzing American English.
---
Print & Web
The New Yorker: Lizzie Widdicombe's brilliant Talk of the Town piece describes the book and launch party entirely in six-word sentences.
Time Magazine: "Like traditional Japanese poetry, the new pop-culture haiku says a lot with few words. These days digital eloquence is defined by pithiness.
… In the book world, a surprise hit this year has been Not Quite What I Was Planning: Six-Word Memoirs by Writers Famous and Obscure."
Los Angeles Times: Larry Smith and Rachel Fershleiser pen an op-ed piece on how the six-word memoir project has inspired SMITH Mag's vision of a storytelling world.
The New York Times Online (City Room): Jennifer 8. Lee digs into the back story of SMITH Mag and the six-word project, challenges Times readers to write with their own six-word life stories—and the comments box explodes.
NY Post Page 6: "Movers and shakers are asked to sum up their feelings in very short order in Smith magazine's new collection of Six-Word Memoirs on Love & Heartbreak."
Slate: "Brief writing is thriving with the publication of Not Quite What I Was Planning," writes Michael Agger, in The Great Uncluttering: the best books, articles, and Web sites for helping you organize your life.
The Denver Post: "It's a quick read that invites a slow reread…
…The SMITH website says they were aiming for 'everything we believe storytelling can be: accessible, funny, profound, and addictive.' They've fully achieved their goal…Not Quite What I Was Planning is a perfect distraction and inspiration, and a collection that begs to be shared. Be warned, though. If you plan to lend out your copy, start out with two. Once it leaves your hands you'll never see it again."
Amazon.com's Best of February: "In the bittersweet confessional style of PostSecret, hundreds (famous and otherwise) sum up their lives in less than half a haiku." Also: Amazon's Leah Weathersby interviews Rachel Fershleiser.
Publishers Weekly: "Makes for compulsive reading and prove arguably as insightful as any 300+ page biography. Taken as a whole, this cascade of quotes from contributors famous and unknown creates a dizzying snowball effect of perspectives and feelings. … [T]his compelling little book will have readers and their friends hunting for favorites and inventing six-word self-definitions of their own. This review in six words? Read. Enjoy. Pass it on. Repeat."
Publishers Weekly (again): Humorist Henry Alford riffs on the six-word form by crafting his own six-word memoirs for bestselling scribes from William Shakespeare to Jessica Seinfeld.
Very Short List: "Six words. Personal stories. Infinite possibilities. These ADD autobiographies prove that brevity can be the soul not simply of wit." Update: VSL readers vote Not Quite What I Was Planning the most popular pick of February.
The Telegraph (London): "a fabulously appealing exercise both for writers and for readers."
ine: "The pithiest of life stories."
ReadyMade Magazine: "The petite self-portraits encompass love and love, joy and sorrow—everything you'd expect from a longer book."
New York Post: "The brilliance is in the brevity."
Boing Boing: Boing Boing's Mark Frauenfelder says, "I wish all tombstones came with stories like these."
The Baltimore Sun: Sports columnist Rich Maese calls the book "a minimalist attack on the written word" and then writes six-word memoirs for dozens of sports stars.
SF Gate (SF Chronicle): "The best idea I've recently seen for a book."
St. Louis Post-Dispatch: "Let's dub this American haiku…
…SMITH Magazine, a popular online periodical that features personal storytelling, has turned out a compilation of hundreds of six-word memoirs by the famous and not famous… [Y]ou can read pieces in seconds or ponder the book for hours."
NPR's Bryant Park Project: "The editors of SMITH challenged writers to craft their own six-word memoirs, and got some interesting results. Most of them sound kinda like crosses between a personal ad and a haiku…"
Philadelphia Magazine: "A good number conjure up both a story line and a worldview. Six-word review: Buy it, keep it in bathroom."
Time Out New York: New York City's leading weekly took our six-word memoir concept to the streets and found New York life stories like: "Good life. Good times. Hard times."
Galleycat: Galleycat scribe and "Internet famous, for what it's worth" six-word memoirist Ron Hogan writes about the book's inclusion of publishing giants Daniel Halpern ("It's all about me, isn't it?") and Dan Menaker ("My memoir? You can't be serious.").
Metro (NYC, Philly): "Larry Smith is redefining the short story, six words at a time."
Blackbook: "These tiny windows into people's lives are at once addictive and illuminating, challenging and accessible."
The Atlanta Journal-Constitution: "Not Quite What I Was Planning doesn't come out till February, but the publisher sent me an advance copy and I fell so in love with it I had to blog early."
Philadelphia Inquirer: "Here's a challenge to crisp prose," writes columnist Chris Satullo says. "Write your memoir in six words. Recapitulate life in a half-dozen strokes."
National Post (Canada): Ben Kaplan talk to Larry Smith and Rachel Feshleiser about the making of the six-word memoir book. Follow-up: Rachel pens an op-ed in the National Post about what we've learned since the project began and the book took off.
The Washington Post's Express: A feature story from free paper of the Washington Post on the success of the six-word memoir book and the founding and future of SMITH Magazine.
Philadelphia Inquirer lead book critic, Carlin Romano, writes: "Six words are worth 1,000 pictures. All told, they made me twitter."
The Toronto Star: "Smith seems to have struck a chord in the current zeitgeist, unleashing a torrent of self-expression not unlike the one launched by Frank Warren when he began inviting people to write their secrets on the back of postcards."
Style.com: Michael Slenske says, in six words, "Gimmicks should always be this fun." Our response? "Not a gimmick, still love review."
Cape Cod Times: Columnist and editor of the Cape Cod View, Debbie Forman, writes, "Some [memoirs] are quite funny, others poignant, and still others have a sharp edge."
Fort Worth (Texas) Star-Telegram: "A few words can distill lifetimes. We're proving that to you here. This story's in six-word phrases."
LitPark: We are over the moon to be featured in a lengthy interview with Susan Henderson on her amazing and inspirational playground for writers, the one and only LitPark.
SHOP THE BOOK >