Marrying the acclaimed immigration-themed ABC series Fresh Off the Boat with the New York Times bestselling Six-Word Memoir series by Larry Smith, Kingswell Press is thrilled to publish Six Words Fresh Off the Boat: Stories of Immigration, Identity, and Coming to America.

This timely and unique crowd-sourced book of immigration stories — each told in six words — captures hundreds of memoirs on the experience from across America, spanning cultures and generations, to paint a powerful portrait of who we are as a country, and where we came from.
Contributors include refugees ("Refugee went from burkas to bachelors," "Boat person finds freedom in America"); students ("I only speak Spanish on weekends," "Hoping my school lunch doesn't 'smell'"); armed forces personnel ("Salvadoran immigrant raises US Navy diver," "Retired Marine, looked upon as outsider"); an astronaut ("From farm worker to NASA astronaut"); an Olympian ("Albanian Olympian flees for America: reborn"); and a Teen Jeopardy winner ("Land of opportunity lets me learn").
The immigration experience is a part of all of our personal history,
says Six-Word Memoir creator Larry Smith. "From the stories of recent refugees to those who have been in America for generations, the ease and simplicity of sharing six-word stories offers a lens on timely issues of immigration and identity."
---
 Check out this video about how we made the book, and who's in it
---
Notable Contributors Include
Plus: Hon. Madeleine Albright, Mario Batali, Billy Collins, Mark Cuban, Junot Díaz, Neil Gaiman, Mayor Eric Garcetti, Diane Guerrero, Dr. Sanjay Gupta, Ron Howard, Eddie Huang, Arianna Huffington, Maz Jobrani, Hasan Minhaj, Amanda Palmer, Randall Park, Gary Shteyngart, M. Night Shyamalan, Gabourey Sidibe, Hudson Yang, Ginger Zee, and many more.
---
Downloads
Credit: "From Six Words Fresh Off the Boat: Stories of Immigration, Identity, and Coming to America"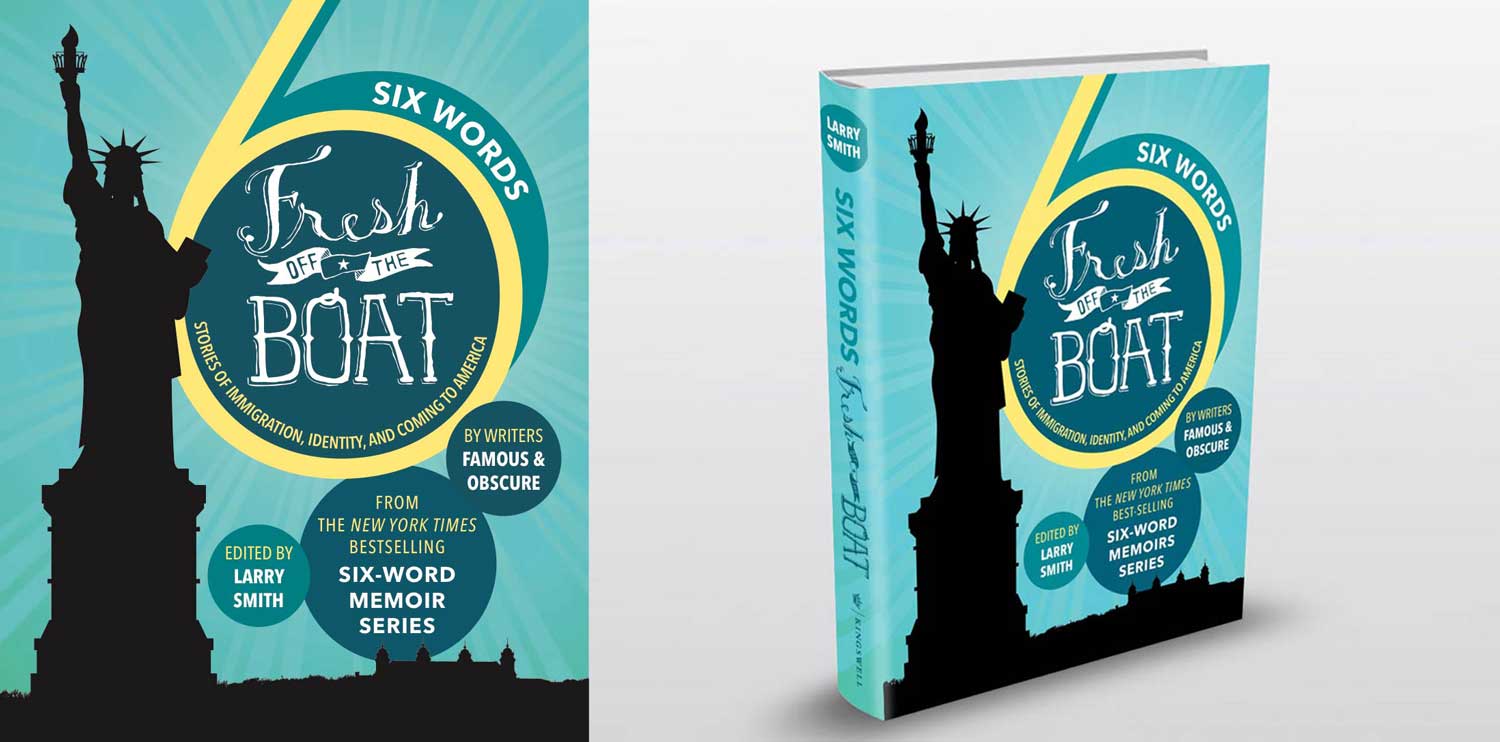 ---
Contact
Six-Word Memoirs
Larry Smith, larry@sixwordmemoirs.com
Disney Woldwide Publishing
Mary Ann Zissimos, maryann.zissimos@disney.com
---
The press is buzzing about Six
Boston Globe, 'Six-Word Memoirs', immigration edition, coming to Harvard Coop: "Immigrants have always been part of our nation's story, and they've always had stories to tell themselves."
San Francisco Chronicle, The search for refuge, in many tales told in six words
The Huffington Post, Celebrities Reveal Their Immigrant Stories In 6 Powerful Words: "The book contains hundreds of stories from famous, notable and everyday immigrants who come from all around the world. It explores everything from their thoughts on "smelly" foods and masked accents to the sweat, courage and determination it took to begin anew in the United States."
Poets & Writers says, "the collection paints a powerful portrait of who we are as a country, and where we came from."
Entertainment Weekly: As debates about immigration remain at the center of our political landscape, the creators of ABC's Fresh Off the Boat have teamed up with Six-Word Memoirs for a collection of short paeans to immigrant parents and America's open doors.
Check out Buzzfeed's list of some of their favorite micro-tales.
Watch Larry on WBGH discuss his latest work, "Six Words Fresh Off The Boat: Stories of Immigration, Identity, and Coming To America." with Jim Braude. Hint: Larry comes on at minute 17:00.
Parade, Larry Smith Talks Immigration and Fresh Off the Boat in Six Words: Smith collaborated with the cast of ABC's Fresh Off the Boat—many of whom are immigrants or the children of immigrants and offered six words—and crowdsourced the process to find widespread voices, both famous and obscure, from across America,…
all with the ultimate goal of sharing first-person accounts, both joyful and harrowing, of coming to America.
NBC News and The Hollywood Reporter gave us a little help early in the process.
SHOP THE BOOK >