"Writing became fun instead of work, thanks to SMITH."


Name: Maria V.
Place: San Francisco, California
SMITH Member Since: February 2008
December is a month of religious and multicultural celebrations—a fitting time to feature Maria V., who posts under the pious pen name Stella_Matutina. With more than 800 memoirs since joining SMITH Magazine in 2008, Maria has an adventurous side ("Jetway junkie, always ready for takeoff"). Her memoirs are alluring ("She fears falling. He has wings."), saturated with benevolence ("Welcoming means comforting those who suffer"), and faith ("Had me at oremus pro invicem"). Congratulations to Maria V. as our Memoirist of the Month for December 2017. Maria reveals her divine side as she answers our Six Questions:
How did you first hear about Six-Word Memoirs?
I don't remember how I learned about Six-Word Memoirs—it was too long ago! Apparently, I didn't "get" the site at the time: after writing my first memoir, it took six years for me to post my second. SMITH began sending email newsletters that inspired me to return to the site, and I've been "sixing" more or less consistently since September 2015. Though I've taken a few breaks, I keep coming back to Six Words as my favorite creative outlet.
The fun and friendly competition of the SixContests plays a large part in bringing me back to SMITH. I thrive on challenges, and contests motivate me to step up my game. So far, my best has been second place in SixContest #77, Your Family Story in Six Words: "Multicultural kids, raised as world citizens." As one of the contest's Top Six, I was delighted to receive a signed copy of actress Diane Guerrero's memoir, In the Country We Love: My Family Divided. I was even more thrilled to have an entry for another contest appear in SMITH's latest book, Six Words Fresh Off the Boat: "From melting pot, multicultural Thanksgiving meals."
Encouraging comments and messages from Six Words community members give me greater self-assurance in my creative writing ability, and some have touched my heart profoundly with their kindness. In my backstories, I often share the beauty, joy, and wisdom of the Catholic faith that is my lens on life. At first, I was uncertain how readers would respond to my efforts to convey Christ's love through my writing, but the SMITH community has proven to be a true blessing. For the most part, "Sixers" are welcoming and gracious, willing to respect and appreciate sincere beliefs with open hearts and minds.
When did you start writing and what have been turning points in your creative life?
I've always loved the beauty of words, but I tend to be more of an analyst than an artist. An English literature and writing major, I restricted myself almost exclusively to academic and business writing—until I started posting steadily on Six-Word Memoirs. SMITH gave me a safe and supportive space to exercise disused creative writing muscles, embrace my inner mystic and poet, and muse on the fruits of contemplation with community members. Writing became fun instead of work, thanks to SMITH. I'm grateful and honored whenever my memoirs are chosen as Editor's Picks, Featured Backstories and Images, or the occasional Memoir of the Day. Six Words nurtured my confidence enough for me to begin blogging very recently for a start-up Catholic media company.
Which authors do you enjoy or admire, including writers on Six-Word Memoirs?
I'm a voracious reader of a variety of genres, from theology, spirituality, biography, classic novels, historical fiction, and poetry, to business and management. I especially admire those timeless authors who express universal truth and beauty through the artistic medium of words. My favorites include Saint Thomas Aquinas, William Shakespeare, Jane Austen, G.K. Chesterton, Rainer Maria Rilke, J.R.R. Tolkien, C.S. Lewis, Louis de Wohl, Peter Kreeft, and Patrick Lencioni.
Many seasoned sixers and newcomers have struck a chord with their tremendous talent for storytelling, but I particularly enjoy reading poetry at SMITH. JohnBigJohn, NeilSlevin, and torturedbutterfly stand out for their penetrating and powerful poems. Writers like these three are the deep-sea divers of the psyche: they descend into the inner world of the human soul and return to the surface, reporting on what they have discovered in the most intense and imaginative language. A special shout-out goes to those sixers—too many to mention by name—who share their support, humor, and wisdom through positive comments on others' memoirs. And I miss several gifted writers who have left or no longer post regularly at SMITH.
Can you share a favorite Six-Word Memoir, or other story of yours on SMITH and tell us why it's meaningful to you?
A favorite memoir is "I've learned silence within monastery walls." It's about the importance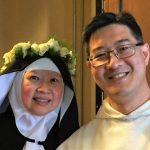 of seeking interior silence in a world of distractions, written as a birthday tribute for a cloistered nun. Sister became a close friend when I spent a month with her monastic community to discern a possible vocation to contemplative religious life. Although that calling wasn't meant for my immediate path, my time in the monastery was a pivotal experience.
When you're not writing, how do you spend your time and what do you enjoy doing?
I'm currently a management consultant. I've also worked in philanthropy and fundraising and in global corporate banking. A native and lifelong resident of San Francisco, I've earned an MA in theology and an MBA from a Top Ten graduate business school.
Finally, Maria V., what are your Six Words for today?
"Write what you believe and love."