As a school year driven online came to a close, MaryKathryn Conceison, a fifth grade teacher in Burlington, MA, looked to Six-Word Memoirs to give her students an opportunity to reflect creatively on their experiences with remote learning.
After receiving an email from her principal with the "Life During Coronatime" lesson plans and the Time For Kids article, MaryKathryn shared some of her highlights from the Six Word Memoir site, drafted her own Six-Word Memoir, and encouraged her students over Zoom "to write honestly, …write like they would talk…[and] rip it up if you don't like it!" and to consider their Six-Word Memoirs "a challenging, but exciting, opportunity…to make sure that the words they chose were powerful." She asked them to handwrite their memoirs and to take a picture of themselves. Her fifth graders did not disappoint.
Students mainly expressed their frustration with sheltering in place. One student joked "I guess my teacher slept in" while another wrote "Love you so much room 235." One student even went so far as to write four Six Word Memoirs together, creating a poem. She wrote: 
"2020 really stinks, don't ya think
no friends, no parties, no camp
I don't like remote learning 
when will the pandemic be over"
Although Ms. Coceison's fifth grade class wrote their memoirs in their last week of school, she was delighted by the number of students who participated, she even shared some of her highlights on her class Instagram page and on their class Seesaw feed. In looking forward to next year, Ms. Conceison is excited to use Six-Word Memoirs again. As a tool for remote learning, she found there are so many possibilities for lessons built around Six Word Memoirs, and she anticipates even more creative and thoughtful responses when there is more time for modeling. She was particularly inspired by a teacher in New York who shared a different Six-Word Memoir every day as an activator and hopes to do a similar lesson to start the school year.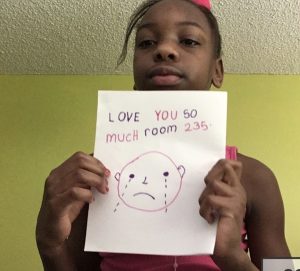 "I think [SWMs] gave students time to reflect on their experience in remote learning and being quarantined at home, and it also gave me insight into how they felt about
the experience, and…it kind of gave me an opportunity for me to see how they were really feeling in a way that seems kind of low stakes to them," Ms. Conceison said on reflecting how the Six Word Memoir Lesson fit in with the experience of remote learning. "It was a way for them to be vulnerable and to share how this experience was for them in a fun way."
Teachers! Since we first launched the Six-Word Memoir project, educators across the spectrum have found Six Words to be a terrific classroom assignment and catalyst for self-expression. At our Six in Schools section, we celebrate students' work from classrooms around the world. Download one or all of our free teacher's guides—including our most recent pandemic edition  here.