Learning does not have to end when you become an adult.  That's the philosophy of Maria Leopoldo (community members might know her better as oopsalittle) and The Australian University of the 3rd Age, or U3A .  The "third age" refers to the period of life after childhood learning and middle age working, a space when one is ideally free to explore interests for continued intellectual and physical stimulation such as yoga, learning French, drawing, Nordic walking, and now—thanks to Leopoldo—Six-Word Memoiring.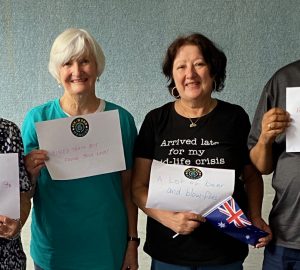 A former teacher, Leopoldo first came across Six-Word Memoirs when she found our first book Not Quite What I Was Planning. "I was immediately inspired and intrigued by using only six words to tell your life story. At the time I was very busy with kids and work so the seed was sown and then forgotten," Leopoldo said. "Fortunately, just a few years later in 2010, I came across the Six-Word Memoirs website and I was immediately hooked."
She's been an avid Sixer ever since, posting regularly on the site, sometimes with an ulterior motive: "Every now and then I try to convince Sixers to try Vegemite through my sixes because I'm sure they could learn  to love it as much as I do!"
Earlier this year, Leopoldo shared her passion for Six-Word Memoirs with her community at U3A. She geared up in her Six-Word Memoir T-shirt and enlisted her daughter to help set up our founder, Larry Smith's TEDx Talk to get the ball rolling. Then, her students were off, writing their own stories. They used some previous contest prompts to spark inspiration, but then Leopoldo came up with her own particularly challenging question: "If you had friends visiting Australia for the first time what would you want them to know prior to arriving?"
"All the participants felt inspired and comfortable in sharing their sixes; and all wanted to verbally share the backstory on where those six words come from," says Leopoldo. The mix of memoirs was poignant ("'My world on my kitchen table"), funny ("Blue jumper forever, grey jumper next"), and wistful ("We will appreciate freedom without masks") which had a trigger effect of feeling of included and part of something special. Leopoldo, who has seen the power of Six Words for years on the site, was nonetheless truly moved by the effect in her classroom. "Everyone walked away with an understanding that writing just six words can be the beginning of the bigger picture of their lives: the backstory and what experiences, emotions and thoughts inspired the initial six words. Being able to express so many emotions, thoughts and stories undiluted by unnecessary extraneous words in that initial moment of writing—that's what I love about Six-Word Memoirs."
She has plans to host a similar seminar over Zoom as Australia is still in quarantine.
Teachers! Since we first launched the Six-Word Memoir project, educators across the spectrum have found Six Words to be a terrific classroom assignment and catalyst for self-expression. At our Six in Schools section, we celebrate students' work from classrooms around the world. Download one or all of our free teacher's guides—including our most recent pandemic edition here.