IN UNALASKA, ALASKA, A CITY WITH a population of just under 5,000, new junior high English teacher Dan Smith introduced his class to Six-Word Memoirs. At the end of a slideshow designed to introduce himself to the class, Smith included a slide about writing about yourself in only six words. For the first writing assignment of the year, students were asked to write Six-Word Memoirs as a "get to know you project." 
"The Six-Word Memoir is a good balance of being accessible to any student yet challenging, and of course offers unlimited creativity and self-expression," says Smith. "My students really thrived with them. They also created visuals to accompany their memoirs, some of which were just as amazing as the words."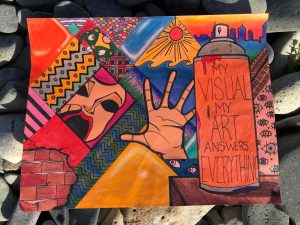 Smith gave an overview of the assignment by sharing examples from the Six-Word Memoir website and asking students to discuss what about each example made the story meaningful. He asked them to write about what they felt would show something important about themselves. "But other than that I gave my students full creative control—I did not edit their work in any way—and was impressed with their results, from content to style to creative punctuation used to save precious words. We have a diverse student population and some chose to write in other languages, like Tagalog, further emphasizing their individuality."
Though each memoir was about an individual student, the goal of the week-long project was to build a "community of readers and writers." Anyone can write a Six-Word Memoir, Smith emphasized. Sharing meaningful words about themselves brought students closer together in the classroom.
The class displayed their memoirs on colorful construction paper in the hall. Some students chose to add visuals or decorations, and the hallway became an attraction for others to read, comment on, and support each other's writing as a community. 
Smith says the project was a great success. "The medium is so approachable that even students less confident in their writing ability produced creative and introspective expressions of themselves, and more confident writers embraced the challenge of saying as much as possible in only six words. Adding a visual component let my artists and visual learners flourish. My students blew me away with their Six-Word Memoirs, showing me not just who they are as people but what they are capable of as writers. Some students showed me Six-Word Memoir they wrote at home, either for fun or as a cathartic form of journaling; one student started finding "accidental" six words around the classroom, like found poetry. The form and its potential clearly made an impact on my students, giving them a new way of expressing themselves."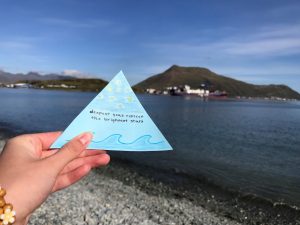 Though the official assignment lasted about a week, Smith continues to use Six-Word Memoirs as part of his writing exercises and reflections in class. "Now that we're all familiar with the medium, it's easy to say 'Write a quick Six-Word Memoir about the book you're reading and share it with a partner,' or 'Write a Six-Word Memoir to describe a reading strategy we discussed today.'" The memoirs are six-word gifts that keep giving.
Teachers! Since we first launched The Six-Word Memoir Project, educators across the spectrum have found Six Words to be a terrific classroom assignment and catalyst for self-expression. At our Six in Schools section, we celebrate students' work from classrooms around the world. Download one or all of our free teacher's guides—including our most recent pandemic edition here. Email us at news@smithmag.net and share your classroom's six-word journey and your students could be featured in a future Classroom of the Month.