As Ygritte says to Jon Snow, "If we die we'll die, but first we'll live." Your favorite characters certainly came to life in this week's contest. To celebrate the new season of Game of Thrones, we asked for GoT fanfiction in six words! Here are the Top Six storytellers:
6. "Hodor. Hodor. Hodor. Hodor. Hodor. Goose." –PollyMath
5. "Joffrey's uncle-father beats him up one-handed." –ChewyD2
4. "The coronation of King Tyrion Lannister" –@WintermuteNight
3. "Catelyn Stark is back. Game over." –@allysonm
2. "Kahl Drogo. Still undefeated against men." –@Hassandle
And the best GoT fanfiction goes to…
1. "Queen Daenerys chooses her Hand: Brienne." –@rusmclaughlin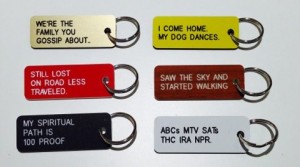 Congrats to @rusmclaughlin, who can put this winning six-word memoir (or any six words of his choice) on a fabulous key tag thanks to our friends at Various Projects!
Thanks to everyone who joined in the fun! Whether in our contests, on Facebook, Twitter, Tumblr or at sixwordmemoirs.com—keep on Sixing!