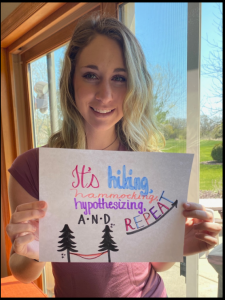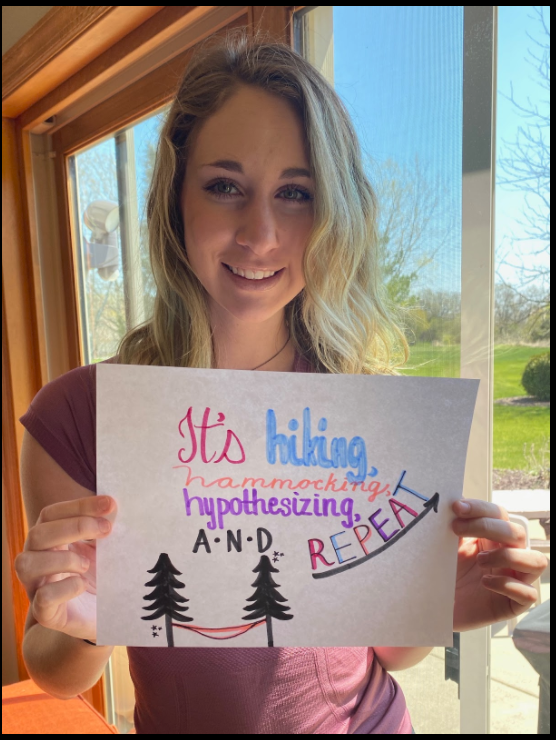 Six-Word Memoirs has become a great tool for teachers, helping students find their voice, choose their words carefully, and unleashing creativity within the six-word constraint. Since Six-Word Memoirs founder, Larry Smith, quickly put together and released our newest free lesson plan, "My Life Now—Six Words on the Pandemic," hundreds of teachers have downloaded our guide and used Six-Word Memoirs in their remote classrooms. Here are a few of their stories:

Middle School: Masterpieces in Massachusetts and Texas
The pandemic disrupted Joe Golossi's plan to use Six-Word Memoirs as a culminating project for his students before they completed sixth grade and their time at Campus School at Smith College in Massachusetts. Instead, Golossi asked his students to ponder their newly disrupted lives. Some wrote about what they're doing ("During hard times, we create masterpieces."), others kept it positive ("Toilet Paper's gone, but hope isn't."). 
"Sharing the memoirs during one of our first Zoom morning meetings shortly after we locked down brought us laughter, and a reality check, evidenced by the quiet nodding of heads after some pieces were read," says Golossi.
"Hearing these short pieces also started conversations and commentary that both the students and I were seriously missing—the absence of the presence of peers and of being intellectually stimulated. We just missed having one another to talk school stuff!" 
"What I love most about my sixth graders memoirs is that they serve as a time-capsule, capturing the essence of adolescent life in a particularly powerful and vulnerable moment in history."
Golossi plans to use Six-Word Memoirs again in the fall, especially if they are still learning remotely. 
Colleen Borgeson, a sixth grade teacher at the All Saints school in Tyler, Texas, reverse engineered Six-Word Memoirs with her newly online class. Her approach: asking students to come up with just the backstory, not the six. After reading her class Hemingway's classic "For Sale: baby shoes, never worn," her students came up with the context behind the story.
"They told some crazy stories," Borgeson reports. "Backstories about alien-abducted babies, babies who didn't like the shoes and took themselves to Walmart to buy their own shoes while their neglectful parents were away (thus leaving the parents with no choice but to sell the original, uncomfortable pair), and people who were hoarding baby shoes during the pandemic in order to sell at a profit. And, of course, they told the obvious, sad stories." 
Afterwards, it was the students' turn to write their own pandemic-related memoirs. "I haven't counted, but the words "lonely" and "bored" were repeated over and over," says Borgeson. We're in an unprecedented, intense time for all, but reading some of the words that poured out of Borgeson's students reminds us just how rough it is on kids. Among their stories: "Worried, comforted, loyal dog, always there"; "Boredom, confinement, estrangement all in one…"; In quarantine I can't fall asleep."
"There stories really give you an indication of what school is really all about for this age," she says. Her own pandemic story in six words offer a little bit of much-needed levity: "Emails: innumerable, endless: submit your work!"
Junior High: Revisiting Six-Words in Maryland
To kick off her language Arts class at St. Jane Frances School in Maryland, Patricia Habicht used Six-Word Memoirs for her students to summarize their summer. When the challenge of teaching remotely appeared, she knew she needed to incorporate short-form storytelling once more.
As part of the unit 'Are you a critical thinker?', Habicht had her class use the six elements of critical thinking—Experience, Evidence, Belief, Assumption, Inference, and Judgment—to write a memoir about their experience.
Her eighth-graders wrote about the roller coaster of quarantine ("Self-fulfillment meets happiness, dismay, inspiration, accomplishment!" -Kristen D.), and mixed emotions (Many missed opportunities but unforgettable moments." -Hailey T.).
Six-Word Memoirs offered her students a way to think critically about their current experiences and share their feelings.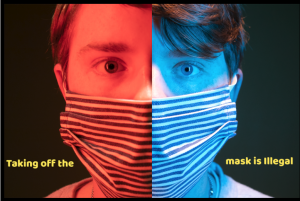 High School Creative Writing Class in Wisconsin
Many are struggling to access their creativity in lock down, but Elizabeth Jorgensen, a creative writing teacher at Arrowhead Union High School in Wisconsin, wasn't going to let that stop her. Using our Guide For My Life Now: Six-Words on the Coronavirus Pandemic, she gave her students a worksheet to get their ideas flowing. 
Jorgensen says "I love how students have to whittle down their ideas, use precise word choice and brevity. A poignant, effective six takes skill, craft and detail; it's a great exercise in the power of words and how even six words can tell a story, evoke an emotion, paint a picture."
Students wrote about what they've been doing ("Watch, stare, as the world changes."), and how they've changed ("Took things for granted; never again."). They then created a visual to accompany their memoir and took a picture of themselves holding it.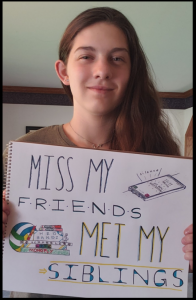 "Especially now, so many students are stressed, anxious, overwhelmed, scared, etc. — and the Six-Word Memoirs and accompanying backstory allowed them a safe space to process what's happening," Jorgensen says. "It also allowed me (and their classmates) to learn about how each one of us is doing. I also enjoyed seeing their faces with their memoirs!" 
We always love having students on our site, especially when they stick around like Becky39s6wordthoughts, who posted this memoir: "Came from school assignment… now addicted."
Teachers! Since we first launched the Six-Word Memoir project, educators across the spectrum have found Six Words to be a terrific classroom assignment and catalyst for self-expression. At our Six in Schools section, we celebrate students' work from classrooms around the world. Download one or all of our free teacher's guides—including our most recent pandemic edition  here.