Poetry gets to the heart of emotion and expression. And this week, you captured that notion with lyrical finesse. To honor Maya Angelou's birthday and National Poetry Month, Six-Word Caption Contest #19 challenged you to write a poem in six words. Here are the Top Six rhythmic beauties:
6. "The beginning
A middle
The end."
–ShellDeFelice
5. "Our souls dance
stirring up romance~"
–@UBUnderlined (via Twitter)
4. "Battered and Beaten. Still, bread rises."
–G_Austin
3. "I'm most awake when lying down."
–jrmiller
2. "Poe Emily
Dick, her son
Lost"
–RaisedByWolves
And the best verse goes to…
1."Loveless
in the arms
of Morpheus."
–Tonyglim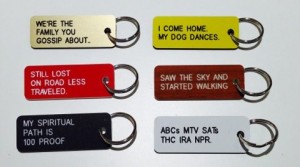 Congrats to Tonyglim, who can put this winning six-word memoir (or any six words of his choice) on a fabulous key tag thanks to our friends at Various Projects!
Thanks to everyone who joined in the fun! Whether in our Caption Contests, on Facebook, Twitter, Tumblr or at sixwordmemoirs.com—keep on Sixing!