This week, you shared both fond memories and open regrets when we asked for your six words about Prom Night! SixContest #23 gave way to stuffed limos, lost dates and butterflies fluttering in many stomachs. However, only one can be crowned as Six-Word Prom Supreme. Here are the Top Six favorites:
6. "Arrived in Limo. Departed in ambulance." –@TheDiscoPlumber (via Twitter)
5. "I learned the truth at seventeen." –R Ann McIntyre (via Facebook)
4. "We are not Cinderellas: blistered, plastered." –sleepyhollowkm
3. "Shaved head. No eyebrows. My date." –comicbookmama (via Tumblr)
2. "Went in straight; came out gay." –wills
And our top-rated memoir about Prom Night is…
1. "Someone needs to burn those pictures." –@TeresaBasich (via Twitter)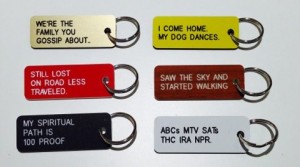 Congrats to Teresa Basich, who can put this winning six-word memoir (or any six words of her choice) on a fabulous key tag thanks to our friends at Various Projects!
Thanks to everyone who joined in the fun! Whether in our Caption Contests, on Facebook, Twitter, Tumblr or at sixwordmemoirs.com—keep on Sixing!