AT THE ARROWHEAD UNION HIGH SCHOOL in Hartland, Wisconsin, Becca McCann's classroom walls are covered with colorful memoirs written by her past students. The impact of Six-Word Memoirs, however, was already thriving in other classrooms. When she first arrived at the district, her colleagues Terri Carnell and Elizabeth Jorgenson had already been participating in SWM for more than a decade and suggested similar assignments.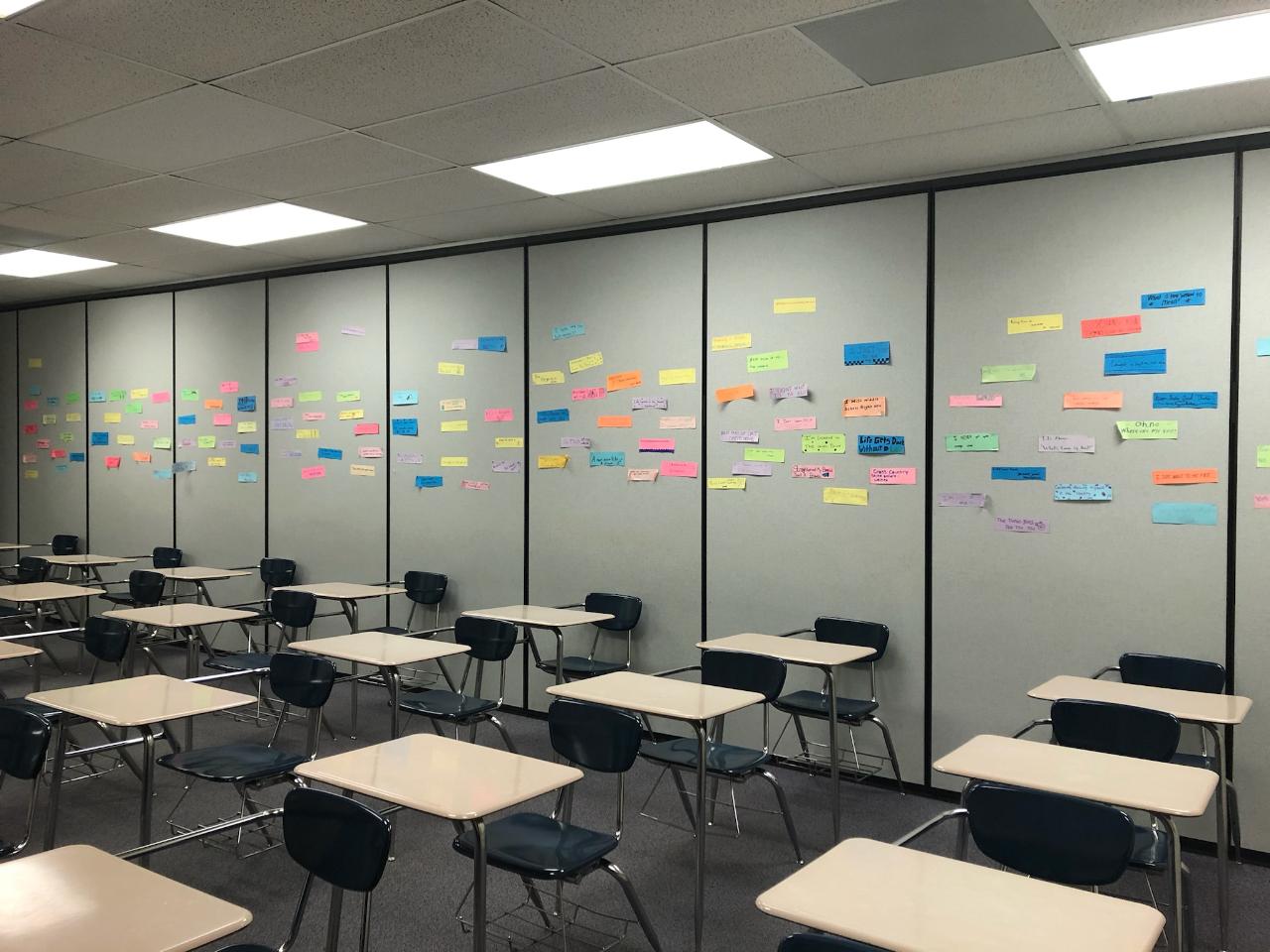 For the past six years, McCann has utilized SWM as an icebreaker project to 11th and 12th graders as a perfect opportunity to learn about her students. She shares a SWM video and a New Yorker article, the latter which inspired SWM in other classroom, and then asks the class to discuss and analyze the articles before writing their own memoirs.
As with many other schools in the world, Covid-19 divides the Arrowhead Union students into physical and virtual classrooms, but McCann finds a technological alternative to still showcase her students' memoirs through Padlet. The online app allows students to publish their works on a virtual bulletin board.
She adapted Padlet in a way students published their memoirs and added images like gifs, memes, or their own art. "They could create an image and pair it with their memoir," McCann says, "so it still allows for some of that creativity that we desperately miss in this virtual situation."
With the challenging six-word limit, students must brainstorm and consider if each selected word is useful, and what kind of message it conveys. "We talk about experimenting with different punctuation," McCann says, as it helps students who are hesitant or new to expressive writing to take creative risks and try something new.
Students appreciate the sense of publishing for both their classmates and the internet, as they broadcast their works on both Padlet and the SWM website. In fact, one of her students' stories was recently selected as the Memoir of the Day. Much like how the memoirs taped on the classroom walls lasts well after her students' high school graduation, this year memorializes the students' Six-Word Memoirs in a different, digital way.
At the end of the icebreaker project, the students reflect on the overall experience as a teaching lesson. They would have a greater understanding of a complete writing process including brainstorming, pre-writing, and revision. For students in a Composition class, these important writing elements should benefit their future projects. "I think [SWM] is an exercise that creates a little more critical thinking than meets the eye," says McCann.
---
Teachers! Since we first launched The Six-Word Memoir Project, educators across the spectrum have found Six Words to be a terrific classroom assignment and catalyst for self-expression. At our Six in Schools section, we celebrate students' work from classrooms around the world. Download one or all of our free teacher's guides—including our most recent pandemic edition here. Email us at news@smithmag.net and share your classroom's six-word journey and your students could be featured in a future Classroom of the Month.