The Six-Word Memoir has traveled the world since founder Larry Smith asked people: "What's your story in six words?" in a simple Twitter prompt in 2006. Since we first launched the Six-Word Memoir project, educators across the spectrum have found Six-Word to be a terrific classroom assignment and catalyst for self-expression. 
Some benefits of using Six in classes are students becoming more engaged with coursework, their peers, and themselves through this medium. They can express their creativity all while learning how to write in a memoir to make an impact in six words. 
Looking for inspiration for a unique project in your classroom this year? Our Six in Schools blog features hundreds of examples of how educators across the world have brought Six-Word Memoirs into a range of environments. There, you can search for examples by grade level (elementary to grad school) and subject matter (e.g. English, Arts, ESL, etc.) and below are Six Ways Teachers Bring Six-Word Memoirs into the Classroom: 
Art Assignments & illustrations
One of the most innovative ways that teachers of all grades and institutions inspire students to use Six-Word Memoirs in their classroom is through visuals. More specifically, art, illustration, classes, and photography that expands the meaning past the words. 
In Associate Professor John Ferry's "Image and Form" class at the Kansas City Art Institute, for example, each year his students bring their Six-Word memoirs to life with an illustration. First, they craft their own Six-Word Memoirs and then Ferry asked his students to incorporate their memoir into a self-designed image.
2. Six-Words Displayed Across School 
In another form of mixed-media memoiring, students can share their own "legacy" at their school through their own words (six words, of course) and images to offer an essence of their experience. 
As each year at Linwood Howe Elementary in Culver City, CA comes to a close, the graduating fifth graders leave their legacy with an annual "Legacy Project." A poet-tree, where written words from every graduating student hung on the branches of a paper tree became their project. The words of 77 students on one tree branched out through the outlet of Six-Words and decorated the hallway for visitors and students alike.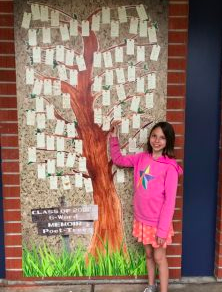 Other displays include a memoir wall with messages from incoming high school seniors at Sidney High School in Sidney, OH. Some highlights on the students' memoir wall include declarations of individuality and personality, sharing the experience of what it's like to be a high schooler at that time. 
3. Exploring Real-World Issues 
Some Six-Word memoirs have been utilized by classrooms to voice their student's political truths and process real-world trauma. At Otterbein University in Central OH, a first-year seminar class explores an introduction to memoir-writing through the Six-Word Memoir format. After reading Just Mercy by Bryan Stevenson, the class composed memoirs about private prisons and mass incarceration. Led by English Department Chair Shannon Lakanen, then they displayed their stories at a campus festival on social justice. At the University of Puerto Rico, a creative writing class voiced their perspectives on living without running water, electricity, food, and the trauma that Hurricane Maria caused. From advocating for the end of mass incarceration to raising the voices of students touched by Hurricane Maria in 2017, Six-Word Memoirs can empower students to make a short, poignant reaction or conclusion about a timely issue or idea.
4. Reading Comprehension & Character Summation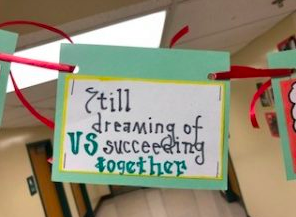 After reading the memoir The Glass Castle by Jeannette Walls at South Side High School in Fort Wayne, IN, students put themselves into the shoes of the narrator to tell a six-word story. The memoirs were then displayed around the school to mark their reading progress. While Walls wrote of her life in fairly short, episodic scenes, her readers offered their own six-word summations such as, "Rain fell hard; Momma never flinched," "Dad, put down the bottle, please?", "Their glass castle was too fragile," and more. And in this case the author was equally inspired by her readers. When she learned of the classroom assignment, Walls offered these words via email: "This tale of Mr. Hannon and his wise, clever students fills me with joy. To them, I say, in six words: Love you all and your sixes."  
5. School-wide Competitions Brookes Moscow International School in Moscow, Russia held was a school-wide "Six-Word Stories" contest. The teachers simply asked students and staff to write an original six-word sentence to connect with a larger group — whether it be funny, heartbreaking, motivational, or profound, the school encouraged people to write to their heart's desire. The contest was shared and judged by the English teachers in every grade, and the contest was shared by word of mouth. 
6. Inspiring Community Service
Banding with the Mid-Ohio Foodbank in Columbus, OH, Six-Word Memoirs helped the organization to come to a goal for fundraising with their "Six Words on Hunger." It was a way for volunteers to express why they do service, how they want to help more, and how they have already helped. Although this wasn't a classroom, this can be used in efforts to inspire students to do service and become more involved in their communities. 
Whether as an ice-breaker to help a quiet or reserved student start writing or as a tool to help students offer an essence of big or complicated ideas, Six-Word Memoirs has become a useful tool for educators everywhere! We encourage you to take a spin around the Six in School blog and see the many ways this simple form of self-expression have become an accessible and effective classroom tool.
Teachers! At our Six in Schools section, we celebrate students' work from classrooms around the world. Download one or all of our free teacher's guides here. Also, here's a welcome letter to those who are new to Six-Word Memoirs. After you've brought Six Words to your classroom please let us know how it goes and you could be featured as a Classroom of the Month. Contact us at: concierge AT smithmag DOT net.