Mark Hannon, an English teacher at South Side High School in Fort Wayne, Indiana, is no stranger to the power of a memoir. Hannon took his first dive into the genre when selecting novels for his literature class back in 2008. He chose to center his course around three memoirs:  The Color of Water by James McBride, A Long Way Gone by Ishmael Beah, and The Glass Castle by Jeannette Walls. While learning about the art of the memoir, Hannon's students were simultaneously educated on writing style. He explains: "I was also teaching students to be concise in their writing: to say as much as possible with as few words as possible." Enter: The Six-Word Memoir.
Hannon first heard about Six-Word Memoirs from one of his colleagues as a way to help his students achieve their goal of concise writing. Since that pioneer class, Six-Word Memoirs have remained a staple in his classroom. This year, two of Hannon's English classes got to take their turn at crafting their own short life stories.
But before they were set free to create their own memoirs, Hannon introduced his class to the concept itself. His students started out by looking at examples from the Six-Word Memoirs site. Then students broke into groups to explore each memoir further and discuss interpretations of the author's meaning. When sharing their findings with the class, Hannon was impressed with the diversity of their conclusions: "It was amazing how six words could mean so many different things to each group of students."
Hannon's class readings served as inspiration for the Six-Word Memoir project, especially The Glass Castle by Jeannette Walls. In her powerful memoir, Walls tells about her experiences growing up in a family environment full of hardship and adversity, and how she and her siblings were able to succeed and grow out of a complicated childhood.
With his Honors English class, Hannon had his students submit sixes about The Glass Castle to the Six-Words site as they read. Students wrote as if they were a part of Walls' world ("Dad, put down the bottle, please?"; "Mom get out of the bed"; "Lori you can leave this place"), 
as well as drew out their own emotional responses to the story ("The Walls' children deserved much more"; "Their glass castle was too fragile."; "No home till the Glass Castle").
Walls herself is no stranger to Six-Word Memoirs. In fact, her six-word wisdom, "Face your demons, then harness them," appears in The Best Advice in Six Words. When the storied writer heard how her memoir and Six Words met in 
Hannon's
 classroom she was delighted. 
"Nothing makes me happier than students reading my story," says Walls. "So this tale of Mr. Hannon and his wise, clever students fills me with joy. To them, I say, in six words: Love you all and your sixes."
For Hannon's students, The Glass Castle was able to connect with them on a personal level. "Many students at South Side High School come from broken or nontraditional homes," says Hannon. "Students wrote about their struggles as immigrants or bullying as the result of not being 'like everyone else.'"
Through the Six-Word Memoir project, students shared their stories of resilience ("Turns out she was strong enough") and teamwork ("Still dreaming of us succeeding together"). They told of unforgettable memories ("5 will forever live with me"), abrupt life changes ("We were, and then we weren't"), and hopeful wishes ("Sing to me one more time"). Finally, one student crafted a memoir that resonated deep with the message of Six-Words: "Shaped by the power of words."
After decorating a notecard with their memoir, each student's work was proudly displayed in the hallway so that the rest of South Side High School could read their stories. "I hung the projects outside of my room where all students could see in an attempt to promote awareness," Hannon explains. "The memoirs are hung without class distinction—and in no particular order or pattern." The point of this display was to show that regardless of education level or language capabilities, everyone has the power to tell their story. Especially for such a diverse school district, it was important to Hannon that his students learn that their voices matter, regardless of their backgrounds.
Six-Word Memoirs provides students with a way to open up and reveal something about themselves that they may have otherwise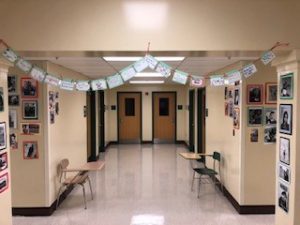 been afraid to share. "We talked about what it meant to wear one's heart on one's sleeve," adds Hannon. "I reminded students that what was shared on the wall are pieces of themselves that they would like others to know about themselves." After ten successful years of using Six-Word Memoirs, Hannon doesn't see himself ever stopping: "I plan to continue to adapt and use the project for as long as I teach."
Teachers! Since we first launched the Six-Word Memoir project, educators across the spectrum have found Six Words to be a terrific classroom assignment and catalyst for self-expression. At our Six in Schools section we celebrate students' work from classrooms around the world. Download one or all of our free teacher's guides here.