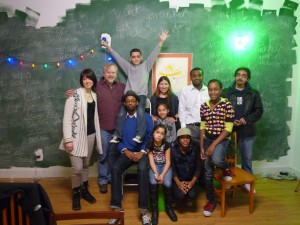 In the six-word world, there's nothing we love better than seeing Six-Word Memoirs captivate a classroom. Rachel F. and I get emails every week, sometimes daily, from teachers across the world relaying how they used Six Words as a writing prompt, catalyst for self-expression, or way to break the ice with their students. We get invited into classrooms a lot, too, and try to accept as many invitations as we can.
A few weeks ago, I joined Stephen Haff (pictured, at bottom) and his crew at a center he founded called Still Waters in a Storm, a reading and writing group in Bushwick, Brooklyn. It's like a one-room schoolhouse that anyone's welcome to drop into. Stephen describes his scene as one that's about, "Neighbors as family. Thinking as pleasure. Expression as survival. We write, read, speak and listen. We practice compassion. We're a neighborhood within the neighborhood" After spending an afternoon with him and his "kids" (aged 7 to 22) I can't think of a better description.
We talked about storytelling, and why it matters on a deeply personal level. Then, sitting around a table, between bites of pizza, the class worked on their own Six-Word Memoirs. Young Moses (pictured at the blackboard) offered, "I'm going ghost; see you tomorrow." Flaco, a poet/cabdriver looking like a younger, hipper Spike Lee, revealed "My bones ache to your touch." From Lindsey, who volunteers at Still Waters and is working on a thesis about urban neighborhoods, we heard, "Perpetual student. Lives in theoretical reality." Angie, all of six or seven, proved to be a young Buddhist in the making: "I like pizza and I'm here." Toward the end of the afternoon I challenged the group to create a wall of Six-Word Memoirs on the blackboard over the next week or so and send me a photo. They didn't need a week: 30 minutes later a blank slate was filled with stories.
My six words? "I love afternoons in a classroom."
Note:With the generous support of our publisher, Harper Perennial, we've created two Six-Word Memoir lesson plans, one for our first book, Not Quite What I Was Planning: Six-Word Memoirs by Writers Famous & Obscure, as well as one for our teen book, I Can't Keep My Own Secrets: Six-Word Memoirs by Teens Famous & Obscure. Download a free PDF of either or both below. In return, all we ask is that you let us know how six words works in your class. We love sharing your stories with the rest of the SMITH community.
Teachers Guide: First Six-Word Memoir book (click to download)
Teachers Guide: Teen Six-Word Memoir book (click to download)
Video: "Six Tips for Writing Six-Word Memoirs."