At Kennedy Middle School in Redwood City, CA, 8th grade students published their own books and excitedly shared their Six-Word Memoirs. Their English teacher, Cynthia Wilson, even shared that her students signed each other's books — just like a yearbook — placing their names next to their memoirs. The students, now published authors, would have a physical copy of their eighth grade memories, experiences, and writing skills.
Although Wilson first heard about Six-Word Memoirs from a fellow teacher, when she read about Six in Schools in a New York Times article, she was hooked on Six-Words and the idea of student publishing. "I have my students write several different forms of poetry, and so Six-Word Memoirs was another ideal way to encourage them to express themselves." Students created their memoirs on Google Slides, then practiced their speaking skills by sharing their memoir and backstory in front of their classmates.
For the 2021-22 school year, Six-Word Memoirs offered the exciting opportunity for student book publishing. Young aspiring writers like Wilson's students can feel extra motivation through student publishing sites and the opportunity to have their writing presented to a wider audience. In addition to having a lesson plan already outlined, Six in Schools provided an easy writing project that didn't require a lot of brainstorming over class book ideas. The book topic idea was already there: Six-Word Memoirs.
In preparation for the class book publishing, Wilson worked with her students one-on-one, and reflected that their middle school experience was very different from that of previous generations. "Especially this year because so many of my students' memoirs were about their experiences during the pandemic—it will be something they look back on in the future and be able to remember this time of their life." Several students at Kennedy Middle School, a Title 1 School, struggled to afford a copy of their class book. Fortunately, the middle schools' principal made sure all students received one. Making a book with students is a powerful opportunity to bond with students, share their perspectives, and create a lasting memory.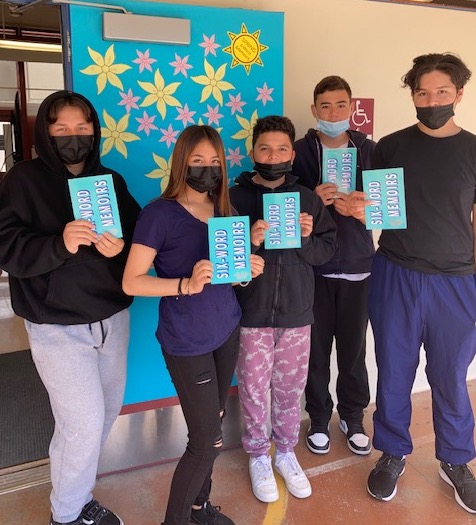 The classroom book included three classes' worth of student memoirs and backstories. It held the dedication: "To those we have lost and those that help us keep moving forward in difficult times."
"I truly miss my old self." — Wendy E.
"New Year. New Day. Same nonsense." —Fernando B.
"My grades were better before Covid." —Karen R.
"Hair soaked, running behind, haven't eaten."
— Camila R.
"Playing video games in pitch blackness."
—Brandon A.
When a local radio show, La Mordidita Latina, got wind of these local authors' book they began reciting student memoirs on air. "I started playing the music one day and then they heard the radio host come on, and the first memoir that they shared was about the student's love of music. That student's face lit up when they heard it was their words being recited." The episode featuring Wilson's students can be found here.
As students signed each other's books, several also wanted Wilson's signature. Wilson says that many 8th graders already recognize the value of their published memoirs, but others don't. "It can be years later when you hear from a student that something was meaningful to them." As for Wilson, she says she will be teaching  Six-Word Memoirs and finding ways to publish writing with her future classes. And, we suspect, making meaningful memories.
---
Teachers! Since we first launched The Six-Word Memoir Project, educators across the spectrum have found the six word format to be a terrific classroom assignment and catalyst for self-expression. At our Six in Schools section, we celebrate students' work from classrooms around the world. Download one or all of our free teacher's guides—including our most recent pandemic edition here. Email us at hello@sixinschools.com and share your classroom's six-word journey and your students could be featured in a future Classroom of the Month.
Want to make your own classroom book? We are delighted to offer a new way for any classroom to make their own Six-Word Memoir book in our new student book publishing program. We provide a free classroom kit that leads teachers through a Six-Word Memoir lesson plan and bookmaking process (it's a simple one). Parents can buy the book the way they buy class photos, teachers get a free book, and schools receive ten percent of each book sale. Sign up to receive your free classroom kit on our Six in Schools site.