Ninth-grade teacher Aanya Ismail first learned about Six-Word Memoirs through conversations with coworkers at Libra Academy, Huntington Park, California. Ismail was looking for ways to revamp writing exercises and invite student expression. After discovering the Six-Word Memoirs website and setting up a Zoom meeting with founder Larry Smith, Ismail was encouraged that the six word format would be a successful exercise for her narrative writing unit.
To ease her students into Six-Word Memoirs, Ismail started with casual journal prompts like, "What event in your life got you to where you are now?" and then gradually opened things up with themes like family, life, and overcoming challenges. The short and concise nature of Six-Word Memoirs was also emphasized during the project.
Initially dismissed by the uneventfulness of their own lives as a result of their young age, Ismail's students feared that they didn't have much to tell.  "They underestimate themselves a lot," she says. But in good time, they seemed to have learnt to appreciate their "little" accomplishments once they got accustomed to the exercise and comprehended how these small changes symbolized significant and commendable growth and change.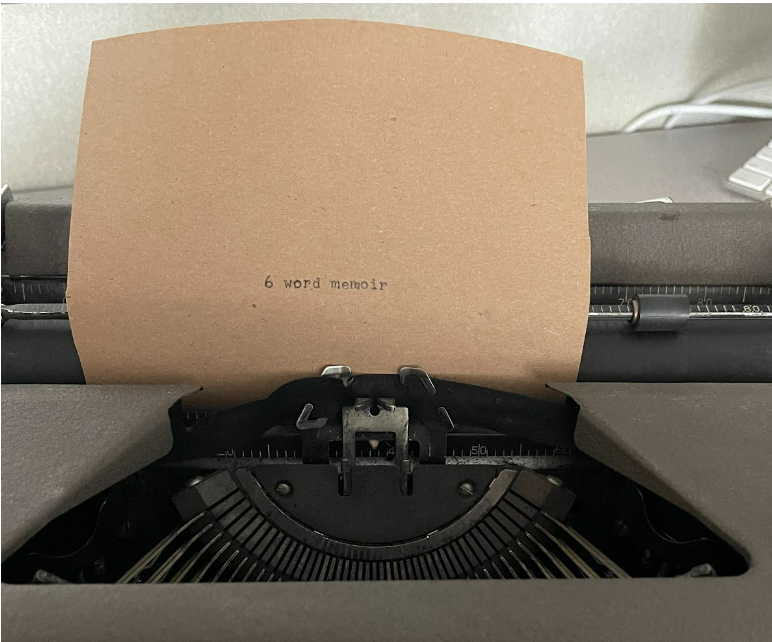 Ismail envisioned making the classroom a liberating space for students to express their feelings more deeply and meaningfully. On one side of the room, memoirs hung from jute thread and fairy lights. Another wall showcased memoirs in butterfly cutouts which also centered on their growth, changes, and goals. One of the memoirs read, "Facing my fears by confronting them." She brought her typewriter to class and printed those memoirs, stoking her students' interest.
The Six-Word Memoir exercise has now been incorporated for just two months and yet the heartfelt journey of Ismail's students —  and her own experience teaching them — has served as a promising outlook for its return in future classroom projects.
Inspired by her students' sheer joy over their "small" achievements, Ismail  says, "I have a lot to learn from the kids that I teach." She hopes to publish the memoirs in a classroom book, creating a souvenir of the students' progress and experiences that they can bring with them as they grow up.
+++++
Hey teachers! Since we first launched The Six-Word Memoir Project, educators across the spectrum have found the six word format to be a terrific classroom assignment and catalyst for self-expression. At our Six in Schools section, we celebrate students' work from classrooms around the world. Download one or all of our free teacher's guides—including our most recent pandemic edition here. Email us at hello@sixinschools.com and share your classroom's six-word journey and your students could be featured in a future Classroom of the Month.