At L'Anse Creuse High School in Harrison Township, Michigan, English teacher Michelle Wolff and her students craft personal Six-Word Memoirs and reflect on the one-year mark of remote distance learning. Wolff is no stranger to writing memoirs— since 2012, she has written over two thousand Six-Word Memoirs and has been featured in our Six Words Fresh of the Boat book ("The other kids never had grebble"). For the past eight years, her students say that Six-Word Memoirs is one of their favorite projects.
For her freshmen students, Wolff asks them to write memoirs for novel characters, such as Shakespeare's Romeo and Juliet. Her creative writing seniors engage in Six-Word Memoirs as an introduction to a longer memoir unit. Her classes learn about the process through the Six-Word Memoirs books and founder Larry Smith's TED talk. Wolff's seniors had been juniors when the school began remote learning. They endured a year of social distancing, wearing masks, and constant rules and restrictions. Their reflections on the pandemic, as well as personal life experiences and drama, are inspirations for their memoirs.
A highlight of Six-Word Memoirs is its manageable goal. Wolff says, "Everybody can do six words, not everybody can do six hundred or six thousand… but they can all write six; the form is accessible to kids of varying levels." Students write only what they want to reveal, from frustrations over pandemic restrictions to their personal thoughts and emotions.
"Every touch, felt like a risk." —Danny E.
"Distance gives reasons to love harder." —Emily F.
"Life changed when it stopped moving." —Mackenzie B.
"Torched the haystack, found the needle." —Damien P.
This year, Wolff's students presented their memoirs online via Google Slides. Seniors customized their memoirs with bright colors and creative images. The memoirs allow the students to connect with each other, and bond over similar experiences. "They can look at what each of their classmates are thinking about, and see that they are more alike often times than they think they are," Wolff says. Previously, her classes' memoirs would be posted on bulletin boards in the hallways, and passing students would often share their houghts and compliment their peers' writing. Regardless of the shared platform, students can receive positive feedback and feel appreciated for their effort and participation.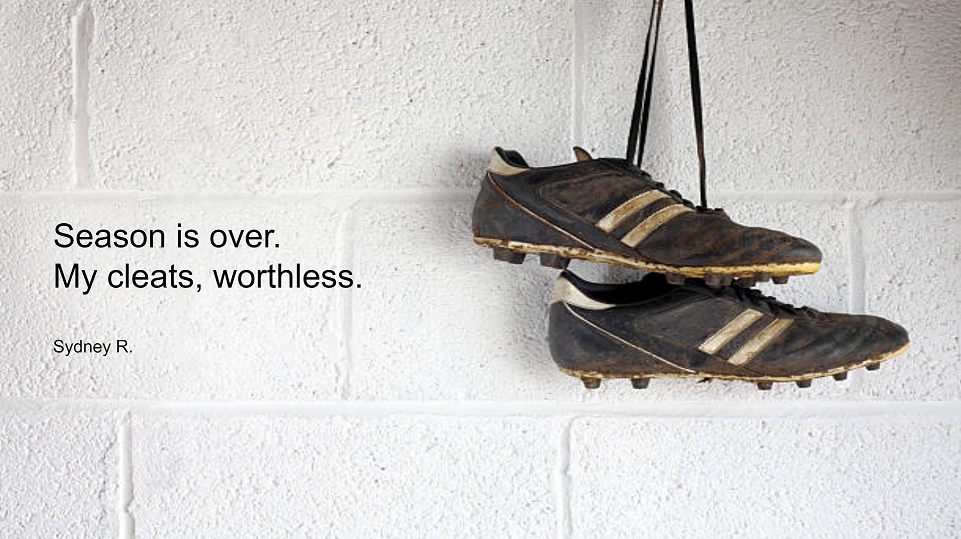 Six-Word Memoirs remain integral to Wolff's personal and professional life. "Some people listen to the radio or whatever on the way to work and honestly, I'm usually playing with Sixes on my way into work." She finds her inspiration in observing everyday normalcy and life events, and twists them with a unique perspective. She plans to continue Six-Word Memoirs with her future students and inspire them to write and engage with their classmates.
---
Teachers! Since we first launched The Six-Word Memoir Project, educators across the world have found the six word format to be a terrific classroom assignment and catalyst for self-expression. At our Six in Schools section, we celebrate students' work from classrooms around the world. Download one or all of our free teacher's guides—including our most recent pandemic edition here. Email us at larry@sixinschools.com and share your classroom's six word journey and your students could be featured in a future Classroom of the Month.
Want to make your own classroom book? We are delighted to offer a new way for any classroom to make their own Six-Word Memoir book. We provide a free classroom kit that leads teachers through a Six-Word Memoir lesson plan and bookmaking process (it's a simple one). Parents can buy the book the way they buy class photos, teachers get a free book, and schools receive ten percent of each book sale. Sign up to receive your free classroom kit on our Six in Schools site.