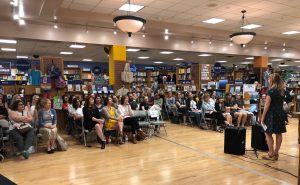 By Rebecca Soffer
In July 2013, when I was four months pregnant with my first child, I peered over the heaping pile of fries I was sharing with my friend Larry Smith and asked if he'd collaborate on a Six-Word Memoirs storytelling event for the Modern Loss community.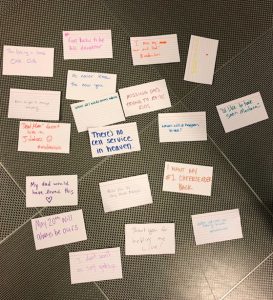 It seemed highly premature at the time. After all, the website I was building was months away from launching, and I was also planning on giving birth around the same time it did (my planning skills never were perfect). But Larry understood the need for the type of community I'd been dreaming of building and assured me that when the time was right, he was in.
Several months later my friend Gabi Birkner and I launched Modern Loss, a digital and IRL forum for loss and mourning within a contemporary context. This was, quite frankly, not the career move I'd had in mind at a younger age, but it was the one the world apparently had in mind for me: when I was 30 years old and working as a producer for The Colbert Report, my mother died in a car accident; just a few years later, my father suffered a fatal heart attack.
Launched into the lonely world of profound loss so much earlier than I would have imagined, I struggled with the balance of trying to grow personally and professionally and also grappling with having lost my most foundational and unconditionally loving relationships; ones I'd counted on having as I went through so many hoped-for life milestones. I needed many things during this whirlwind in my life. Unfortunately, I didn't know what most of them were, as I was in completely unknown territory. But one thing I did know I needed were stories from others. Stories to help me make sense of this uncharted territory. Stories to help me feel again.
Modern Loss quickly grew a wide readership of people eager for an invitation to engage in the good, the bad, the ugly and, honestly, the sometimes hilarious dialogue of the realities of loss over the long term. And I loved the idea of using six words to give people at our live events a chance to share their own experiences. After all, grief and loss can be overwhelming topics to tackle, and especially in casual conversation. But six words? Anyone can come up with that. We also loved how Larry had been using the six-word form as a teaser for longer backstories.
The first SWM/Modern Loss collaboration happened a year and half after our site launched, at the Refinery29 headquarters. More than 70 people packed into a tiny space to hear six people share their teasers and the expanded stories behind them. After the formal program, I opened up the floor to a Six-Word Slam—a format at six words live storytelling events that allows for audience participation in a way that's accessible to all (and manageable for the organizers to include as many people into the event). One after another, members of the audience stood up to share their own Sixes. They share stories on travels, romance, career changes, discoveries, uncovered secrets, and, above all, resilience. The common denominator? They all stemmed from profound loss.
Six words may not tell the whole story, but they tell enough to get people talking to each other to learn more. And suddenly, it was clear that the Six-Word Memoirs was, indeed, a powerful and accessible community-building tool.
When our book, Modern Loss: Candid Conversation About Grief. Beginners Welcome., was published in January, we launched with—what else?— a Six Word storytelling event at Powerhouse Arena in Brooklyn. Since the book contains contributions from more than 40 people, it was a great way to highlight several of them, including I Can't Date Jesus author Michael Arceneaux and Gimlet podcast producer Rachel Ward. But it was accessible way for the attendees (more than 230 of them, including Chelsea Clinton!) to get a very quick sense of the enormous depth of the loss experience and also to briefly share their own. In my opinion, it was so much more impactful to illustrate dozens of stories than Gabi and I simply sharing our own.
We incorporated Six Word evenings in several of our book tour stops, specifically in locations where we had a critical mass of book or website contributors. And at each stop, the lineup took on the flavor of the city we were in. In New York, it was mostly a literary and media group. In Los Angeles, the storytellers were TV writers and comedians. In Austin, we had community builders, DIYers and book authors. And at our most recent one, held on August 9 at Edith Wharton's summer estate The Mount in the Berkshires, the lineup included novelist Courtney Maum, former W Magazine beauty editor Jane Larkworthy and New York Times bestselling author Emily Rapp Black.
Here are a few of my favorites from around the country (grab a tissue before reading on):
In another universe, we got married
She never got to see Paris
There's no cell service in heaven
May 20thwill always be ours
Turns out, you do laugh again
My dad would've loved your book
Eventually, every waking minute doesn't suck
Now my body is always tense
Want him instead of his money
Lose your father, date your papi
So now I'm an only child
Suddenly, I have to manage everything
She never knew the "now you"
I want my #1 cheerleader back
I don't want to say goodbye
"Dead mom" doesn't lure in J-daters (ok, that one was mine…and it's true, it doesn't!)
I'm endlessly grateful to Larry and the Six Word crew for their tireless work in promoting this empowering, democratic, and truly entertaining storytelling format. And I can't wait to listen to the ones yet to be created in the name of Modern Loss. Because, as the ones I've heard have already done, they, too, will be integral in eradicating the stigma surrounding honest talk on grief.
Rebecca Sofferis cofounder and CEO of Modern Loss. She is a former producer for The Colbert Report.