Welcome to the new Six-Word Memoirs site!
As with many launches — starting first grade and transitions into the White House come to mind — we've had some hiccups, and we truly appreciate your patience. Most of all, we're excited to introduce the latest incarnation of SixWordMemoirs.com. While a lot of what you're seeing here looks different, the heart and soul of how the site works should feel similar once you've given it a spin. Here are a few notes:
THE SLIDER (AT THE TOP)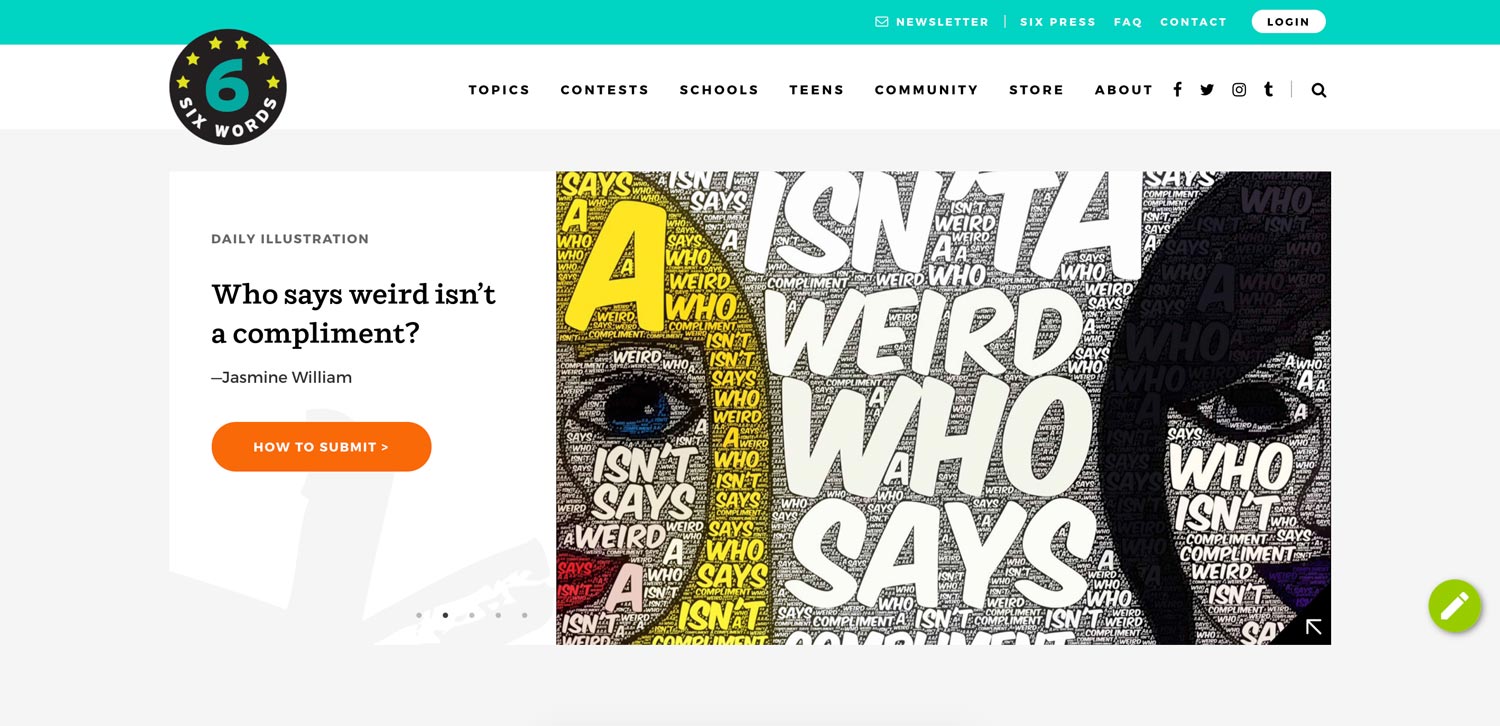 The new slides on our homepage, in order of appearance:

Memoir of the Day is first up. The Six-Word Memoir of the day appears on the left, and if the post includes an image, that image will appear in a box to the right of the words. All images have been resized to fit the box, but clicking the arrow in the right corner will render the image's original dimensions.
Daily Illustration includes many illustrations by students from our book, "Things Don't Have to Be Complicated: Illustrated Memoirs by Students of the World." Click the arrow to see the work in full view. Anyone can submit an original illustration or photographic work for consideration, just click "How to submit"
SixContest offers a competitive fix in just six words. Each monthly contest is a chance to claim "Top Six" props—sometimes our winner takes home a prize!
Shop Six. Need a quick gift or special keepsake? Want to support our site? Now is the perfect time to share the gift of Six Words.
"One Life. Six Words. What's Yours?" is reminder that everyone has a story and we want to know yours. Start by posting a Six-Word Memoir and you'll discover this site offers a creative outlet and so much more.
TOPICS & MEMOIRS
These are largely as you know them, with a few differences:
Search and sharing are more elegant and easy.
If you're memoir has been selected as Memoir of the Day it will have a light aqua box around it when it displays in the Show All or Editor's Picks streams.
SIXCONTESTS

After you post an entry to a SixContest in the form of a comment, you will be given the option to submit those same six words as a memoir in any of the Topics.
SIX IN SCHOOLS
Six-Word Memoirs have been used countless times as a teaching tool in schools across the world. Our Six in School blog is now searchable by grade and topic, and also includes direct downloads to free teacher's guides.
MEET THE COMMUNITY
Across the bottom of some of the pages you'll see profile images of community members. Click on their pic and then stroll through their stories. The "Meet the Community" members will be selected randomly from among members who have both uploaded a profile image and posted recently.
MOBILE SIXING IS AT YOUR FINGERTIPS
We know the app has been glitchy lately, but a new day of mobile Sixing is upon us. The redesign of Six Words has been done in "responsive design," a style of design that automatically adjusts a site's display to respond best to whatever device it is on. All you need to do is:
Open SixWordMemoirs.com on a browser on your mobile device.
Find the "action button" (the icon on the bottom row, middle of a device), then click it and click the + sign that says "add to home screen." Now SixWordMemoirs.com will display on your device.
Log in and start Sixing! Note: If you're uploading a photo, makes sure it's 4MB or less.
AND THE GREEN PENCIL—WHAT'S UP WITH THAT?
Click on it and see!
---
Finally, every project in life (not the mention life itself) is a work in progress. We're really proud of the enhancements to our site and hope you like the results. Please share your feedback below via the comments section of this post (rather than via creating a separate Six-Word Memoir)—or send a private message via email: concierge@smithmag.net. Your patience is appreciated as we address any inevitable post-launch glitches.
Thanks for making this place a one-of-a-kind community in a big world of words.
—Team Six
p.s. On December 19 editor Larry Smith wrote a Six-Word Memoir about some of the changes. Find it here.